Traveling for the holidays can be a piece of cake if you know your options. Avoid parking fees at the airport or make the journey part of the fun by taking transit to where you need to go.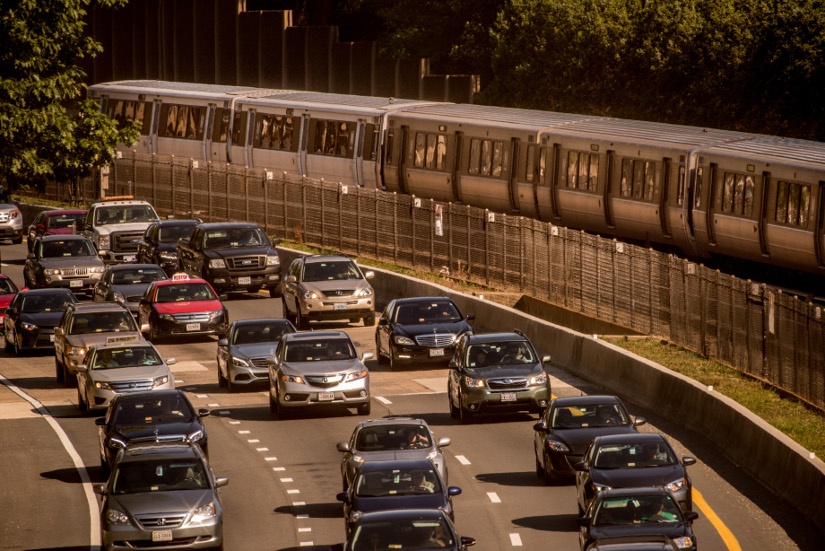 1. Take Transit to the Airport or Bus/Train Station
Parking at most airports or bus/train terminals can be exceedingly expensive. Parking at Ronald Reagan Washington National Airport (DCA) costs $15 per day, minimum. That can add up quickly when you are gone for a week or two visiting family. Compare that to a Metro trip that could cost as little as $1.75 and you will have trouble explaining why you need to drive to the airport. Here are the region's three major airports and how to get to them via public transit:
Baltimore-Washington International Airport (BWI)
Take the Penn Line MARC train in the direction of Baltimore Penn Station
Exit the train at BWI Airport Station
Board the free shuttle bus that will transport you to the BWI Marshall Terminal Building, the shuttle runs on a set schedule based on the time of day
Ronald Reagan Washington National Airport (DCA)
Both the Yellow and Blue Lines travel to DCA
Both terminal B and C are directly adjacent to the Metro's exit
Traveling to terminal A from the Metro is either a 10-15 minute walk through the airport or you can opt to take the free shuttle between the terminals if your bags are a bit heavy
Washington Dulles International Airport (IAD)
Take the Silver Line in the direction of Wiehle-Reston East
Exit the train and head towards the bus terminal
Take the Washington Flyer Silver Line Express bus towards IAD, pay by cash or credit card only
Alternatively, you can take the 5A to Dulles from either L'Enfant Plaza or Rosslyn
Sometimes you will need to use something other than transit to get to the airport when your flight leaves very early in the morning, so here are a few additional options for when Metro, bus, or train might not work for your schedule.
2. Use On-Demand Carpooling to Reach the Airport or Station
There are a few reasons you may want to seek another option to arrive at your terminal. Flights, trains, and buses can often be early in the morning when public transit isn't running yet, that's when you need other options.
Luckily, uberPOOL lets you book trips to all three airports. uberPOOL allows you to pick up other passengers along the way to help reduce your fare, while also keeping extra cars off the road. You also don't have to pay high costs to park your car in a lot until you return. At the time of writing, an uberPOOL from Rosslyn to IAD was $30.94, with the possibility of that price decreasing as more passengers get in the car.
3. Consider the Train During Busy Holidays to Avoid the Airport and Interstate
Airports can often run into delays during the holidays and traveling to certain areas may run you into bad weather conditions (snow, ice, etc.). People hardly think of the train when they are planning their holiday travels, but it can be a fast and reliable way to get to your destination without ever entering an airport or driving onto the interstate.
Yes, trains are slower than planes, but you also skip a great deal of the extra steps required to fly. After arriving at the airport two hours before your flight, going through security, boarding and flying, and then making your way from the airport to your destination (deep breath), you've hardly saved any time. You also won't get stuck in those infamous holiday traffic jams on the major highway corridors.
If you plan far enough in advance you can even save extra money by booking early through Amtrak.
4. A Bus Can Shuttle You from Rosslyn to New York
Considering your first holiday in New York City this year? TripperBus goes directly from Rosslyn to New York City nearly every day of the week in just over 4 hours. That's the same amount of time as driving, but now you can…
Skip finding and paying for parking. NYC has the highest cost of parking in the country
Sit back and read a book or play some games on your smartphone
Avoid paying for gas, tolls, and any other unforeseen costs. The ticket for TripperBus runs as low as $27 one-way
While TripperBus departs from our very own Arlington, there are also plenty of other options leaving the region in both DC and Maryland.
5. Carpool with Friends or Colleagues to the Airport or Your Destination
Many people in Arlington and the DC region as a whole are transplants from other areas. For some, the option might present itself to carpool with some of your friends or colleagues to your final destination—or even drop off some passengers along the way. It's a great way to save money and reduce traffic on the highways during the holiday season.
Carpool to the Airport
Parking at IAD runs $10 per day, so you could consider carpooling with friends or colleagues who are also leaving for the holidays. It will require a bit of coordination, but booking flights around the same day/time could make it possible for you to reduce the cost of getting to the airport and leaving your car behind when you split the costs amongst a group.
Visiting the DC Metro Region?
And if you're looking to visit Arlington or DC during the holidays, just reverse these options to arrive at your hotel here in the area. If you're also looking for additional activities, visit our friends over at StayArlington.
Photo Credit: Sam Kittner/Kittner.com for Arlington Transportation Partners