Well, it's officially Fall everyone - bring on the apple cider and pumpkin lattes! We hope you were able to get out and enjoy some of the events we mentioned last month, however if not, there's plenty going on in October plus some new features ATP would like to highlight.
If you did not get a chance to attend our "Prepare Your Commute" seminar last week, there is still an opportunity for your company or residential property to attend the 2nd session this Wednesday, October 3rd from 12 to 1pm in Crystal City. For companies, assisting employees in finding alternative commute options and having an emergency preparedness policy in place is critical to maintaining productivity and keep business running as usual. Join us on Wednesday to learn about different tips and strategies you can use to incorporate transportation into your emergency preparedness plan. You can also check out the emergency commute planner checklist. There are limited spots available for the seminar so make sure to RSVP today!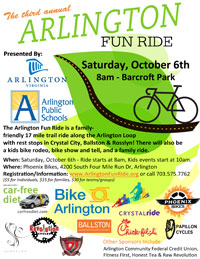 BikeArlington is hosting the last of their Fall sessions of Two Wheel Tuesdays this month, starting tomorrow night at 7pm in Shirlington. If you haven't made it to one of these get-togethers yet, October is a great time to learn about a variety of bike-related topics, including safety, city cycling tips, proper equipment, and bike routes, to name a few. If you are fairly new to biking in Arlington, these sessions are for you!
The 2012 Arlington Fun Ride is being held this Saturday October 6th and is hosted by the non-profit organization, Phoenix Bikes. This family-friendly, 17 mile scenic bike ride will check out the various trails throughout Arlington, with plenty of time for breaks at three different rest stops where there will be coffee and snacks to refuel. There is also a children's ride and other activities that are being held later in the morning. Register the whole family today!
ATP recently released new electronic versions of our Solutions newsletter, to complement the hard copies we send out three times a year. If you would like to receive Solutions through a link via email, contact ATP today, or visit our Newsletters page to check out current and previous issues. Businesses or residential properties can request our Services Guide in electronic format as well, for easier access to information about ATP. Contact us today to receive the online version of our Services Guide. We also are offering several of our materials in Spanish, such as our Neighborhood Quick Glance guides, Services Guide, and Guaranteed Ride Home postcard. If you would like copies of these translated materials to distribute to employees or residents, contact ATP today. We can also provide these materials for health or benefit fairs at your company or property.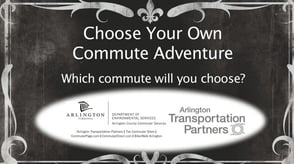 Finally, have you seen our "Choose Your Commuting Adventure" videos? All four episodes have now been released via Youtube, and we want to know what you think! Check them out today if you haven't yet and tell us which episode is your favorite!
Happy October! Contact us today if you have any questions about transportation or commuting in Arlington County!