Sometimes navigating the area's numerous transit options can be confusing. Where do you catch the bus? What route should you take? How much will it cost? Apps and other digital tools are a common solution, but what if you want to talk to an actual person? Where can you go? The Commuter Store! There, you'll meet knowledgeable professionals who provide one-on-one assistance with applying SmartBenefits, exploring routes, purchasing fares and so much more.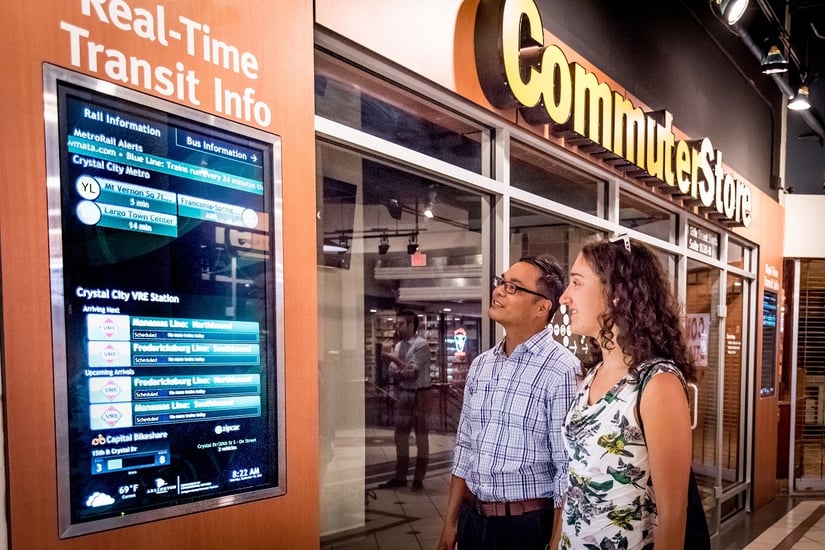 Where Can I Find the Commuter Store?
Located in four convenient locations, it's easy to find a store near you.
Ballston – next to the Ballston Metro Station
Crystal City – inside the Crystal City Shops
Rosslyn – next to the Rosslyn Metro Station
Shirlington – next to the Shirlington Bus Bay
What Can I Find at the Commuter Store?
This isn't an exhaustive list, but rather the most common requests. Read below to see what you can pick up or purchase at the Commuter Store.
Printed schedules and maps
SmarTrip and iRide SmarTrip cards
Capital Bikeshare memberships + key fob and helmet
VRE, MARC, Circulator and DASH fares
Real-time information via TransitScreen
Explore the Mobile Commuter Store
Get a feel for the Commuter Store experience on Tuesday, August 22 at Our Shared Street Pop-Up. We're bringing a variety of transit partners to Columbia Pike for a fun-filled evening. Exhibitors include: Capital Bikeshare, WalkArlington and the newly renovated Mobile Commuter Store. Join us at the event to explore your transit options and stock up on maps and other freebies.
Photo Credit: Sam Kittner/Kittner.com for Arlington Transportation Partners