Crystal City celebrated the beginning of another area enhancement on Tuesday, September 4, when ground was ceremoniously broken for improvements to the Crystal City Metro station entrance.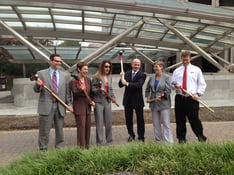 Angela Fox, President of the Crystal City Business Improvement District, Mitchell Schear, President of Vornado/Charles E. Smith, Arlington County Board Chair Mary Hynes, and representatives from WMATA and ADI Construction were on hand to swing sledgehammers and praise the plan, which will add comfort and convenience to the Metro station. New planters that will double as seating, a wider walkway for pedestrians, and new landscaping will bring fresh life to the corner, which serves as the only Metro entrance for a large area. An estimated 26,000 people move through the Crystal City Metro station every day, and this will help make their commute more pleasant.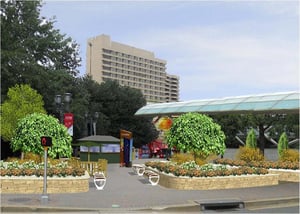 The entire project will be done in three phases, as the paving stones are pulled up, new planter walls poured, and landscaping redone, and the entire project should be done in 6-8 weeks. If you travel through the area for work or fun, be aware of the construction, and be careful getting around detours.
Crystal City has an endless series of projects, including wine festivals, this month's Diamond Derby, fashion shows, Zumba in the Park, and more, designed to beautify the area, improve the health of residents and employees, and create a vibrant destination. Crystal City has already turned into the sort of "mini downtown" that the Metropolitan Washington Council of Governments had in mind when they implemented their Region Forward plan in 2008. The new Metro station project will only serve to move Crystal City forward. We look forward to the completion of this area!