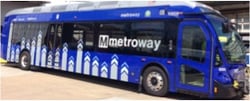 Good news - Metro's new premium bus service, Metroway, launched this week! Metroway will offer customers a convenient travel option between the Braddock Road and Crystal City Metrorail stations.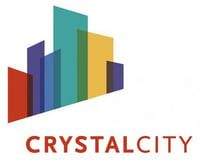 The Metroway directly supports the Crystal City Business Improvement District's (BID) goals of providing innovative, accessible, and green transportation options to the entire community. So of course, the ATP crew had to test-ride the new route! The big blue buses were easy to spot and had that "new bus" smell – which is definitely bigger and better than that "new car" smell.
Friendly WMATA representatives were on hand to answer our questions. So here's the scoop:
Q: What does this mean for the Crystal City community?
A: Well for starters, the stylish blue buses offer improved connectivity, dedicated bus-only lanes through congested areas and frequent service to Crystal City's restaurant scene, Potomac Yard shopping center and Route 1 in Alexandria.
Q: How frequently will Metroway run?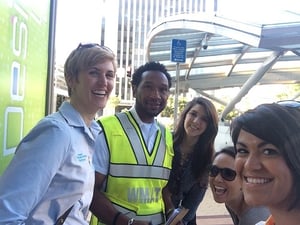 A: During rush hour, customers will see buses operating every six minutes between the Crystal City Metro station and South Glebe. During weekday off-peak hours, buses will run every 12 minutes and on weekends, every 20 minutes.
Q: Where can I get free Metroway brochures for my business, residential building or property?
A: ATP, of course! Just let us know what you're specifically looking for and we'll connect you to the right rep in your area. We're the pros – so let ATP simplify Arlington's transportation options for you.
Let us know if you try Metroway – we want to hear what you think!
Photo Credit: www.MetrowayVA.com, Crystal City BID