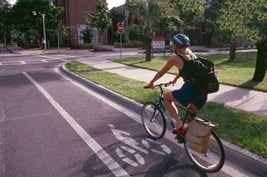 Last week, one of ATP's Business Development Managers, Elizabeth Floyd, attended the National Women's Bicycling Forum in DC, which preceded the League of American Bicyclists' National Bike Summit. This daylong forum featured numerous speakers in a variety of sessions that discussed topics such as how to inspire more women to bike, encouraging bike shops to cater more towards women, and the physical infrastructure and safety issues that encourage or discourage female cyclists. Several hundred women and men gathered to listen and discuss the issues and concerns of women and bicycling and considered different solutions that will achieve the ultimate goal of getting more women on bikes. With speakers such as Janette Sadik-Khan from New York City and Georgena Terry of Terry Bicycles, as well as conversations with many local cycle enthusiasts, there were a handful of interesting takeaways from the forum that brought even more excitement to the women's bicycling "movement".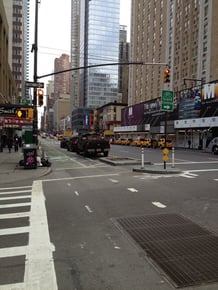 With the theme of the forum being "Women Mean Business", many of the speakers and panelists discussed the economic benefits of female cyclists, as well as the growing influence of women-owned bike retailers and businesses in the industry. Read below for some of Elizabeth's notes and highlights that were mentioned in the presentations.
60% of Millennials who own bicycles are women, compared to 44% of Gen X.
In 2011, women made up 37% of bike business.
Women are more responsive to bicycle ads that are inspirational, rather than aggressive and competition-themed.
Over 50% of female cyclists did not buy their bike from a bike shop; bike retailers need to find strategies to attract women and their needs.
For most city and female bikers, cycling is not about "speed and performance" but rather daily travel patterns and errands in the community.
In NYC, the 9th Avenue protected bike line has seen a 64% increase in cycling since it was installed and a 50% decrease in crashes.
As the number of bike lanes, trails, and bike parking continues to increase in the Arlington and DC area, more residents are embracing bicycling as a form of transportation. For women, addressing issues of safety and convenience is paramount to making bicycling a viable and attractive option to getting around for the average commuter. There are other barriers to cycling, which both Elizabeth and myself describe here and here, but the energy and enthusiasm at the Women's Bicycling Forum sent a positive message about the future of women and cycling.