Over the last five years, Champions has continued to grow in popularity as Arlington Transportation Partners (ATP) works with even more businesses and properties in Arlington, Virginia. However, the best part about the program isn't the number of participants—it's about what companies are doing to engage their employees and residents.
In 2017, ATP recognized 231 Champions; to date, we are celebrating 176 Champions with four months to go in the year before we close out 2018.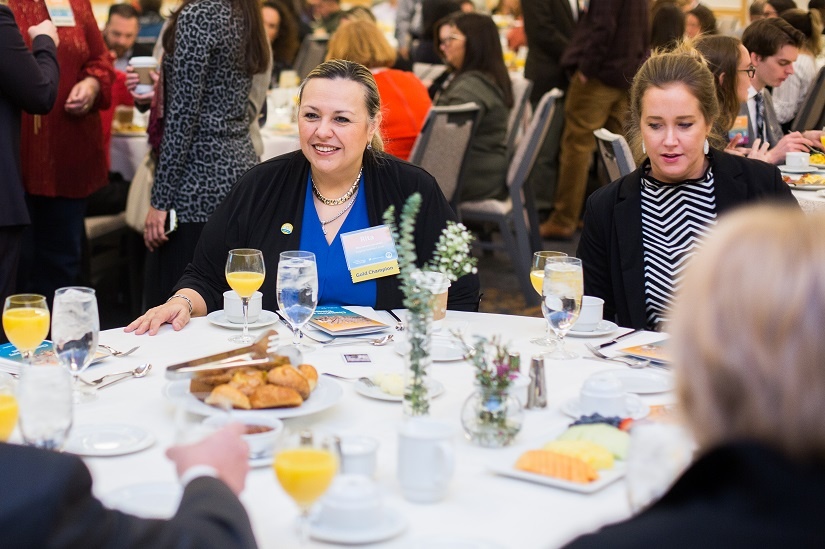 Above and Beyond
Champions is a program that allows businesses or properties, regardless of size, to participate at any level that provides the best benefits to tenants or employees. ATP helps facilitate advantageous opportunities and we are always excited when our partners make a small change with a big impact.
Improved shuttle and bus service
Many hotels and residential properties in Arlington use shuttles, but two of our Champions are working to maintain and improve these services. Avalon at Arlington Square, managed by Avalon Bay Communities and a Platinum Level Champion, currently helps fund an ART bus route that runs through their property. Their commitment to this service is also commitment to their residents, encouraging sustainable multimodal trips in a less Metro-accessible area of Arlington.
Similarly, the Hilton Garden Inn Arlington/Courthouse Plaza expanded their shuttle service to employees. Prior to working with ATP, the shuttle service was only available to guests. This shift in benefits, while small, allows for better commutes and improved employee satisfaction.
Bike safety and education
For our employer clients, 2018 has been a great year focused on active commuting and removing barriers for employees. HDR and Ramboll Environ, both Gold Level Champions, have been hard at work with ATP to host bike education events with our partners at BikeArlington. Important topics such as fixing a flat tire and how to perform a bike safety check before a ride was on the agenda. These safety and education events give new and experienced riders a safe place to discuss challenges and share solutions.
Taking it one step further, Airlines Reporting Corporation (Gold Level Champion) have partnered with ATP and WABA on an upcoming bicycle friendly driver event that will speak to the importance of sharing our streets, as both a cyclist and a driver.
Highlighting Our Champions
These are just a few of the achievements that have happened in 2018, but each month we highlight a Champion for their contribution to the program and to the County. You can read all Champion of the Month highlights on the blog, dating back to 2014. With four months left in Champions 2018, who knows which great company will positively impact Arlington County next.
If your company is interested in joining the ranks with like-minded companies such as JBG Smith, Navy Federal Credit Union, Bozzuto, or Hyatt Regency Crystal City then Champions is for you. ATP can't wait to celebrate transportation with you.
Photo Credit: Reema Desai/ReemaDesai.com for Arlington Transportation Partners