Prior to moving to Fairfax, VA for school I never would have envisioned commuting to work without a car as a possibility. However, once I arrived and saw the abundance of public transportation that was available (and the unbelievable amount of traffic) I began to understand the benefits of public transportation, and that I preferred not having to drive my car.
In my hometown of Columbia, MD everything is located close by, but to go most places you need a car. There are public buses throughout Howard County and Metro stops located about 20 minutes from my home, but public transport is generally not used by locals. City planners have been working to re-develop the area over the past few years to increase its walkability and improve public busing systems, but it's still a work in progress.
When I began learning about the public transportation options offered in Fairfax and realized that public transport is used regularly, I was impressed. As freshmen without cars, my friends and I were able to get to many places within Fairfax or the DC area using campus shuttles, CUE buses and the Metro. When I began my internship at ATP and needed to commute into Arlington County on a regular basis, I was not concerned about my commute. Myself, along with my two other roommates, commute into the County without an issue three days each week.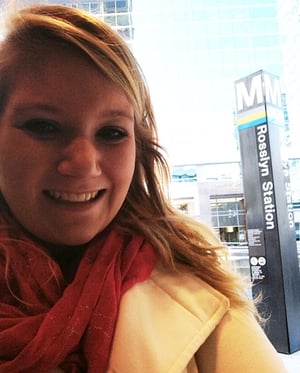 Since we don't live close enough to DC to bike or walk, our commutes include a bus and the Metro. My commute begins with taking a shuttle provided by my University, free of charge to students. The stop is about a three minute walk from my apartment, and a 25 minute ride to the Vienna Metro Station. The Metro leave fairly regularly in the mornings since there are a lot of people commuting into DC, so I never wait more than 15 minutes. From there I sit back for my 20 minute ride to Rosslyn Metro Station. From Rosslyn I then walk less than 5 minutes to the office.
Although the commute at times isn't the fastest, I prefer it over driving. I enjoy being on the Metro with other people, rather than being alone in my car frustrated with the traffic; I get to relax and pass by all the cars on I-66 as I head in. I'm able to read, look at my phone or really do anything other than focus on traffic. I'm also able to stand up and walk around during my commute, rather than sit the entire time like I would be if I were driving. This way my day doesn't go from sitting in my car, to sitting in the office, and then back to sitting in my car to head home.
I continue to learn more about public transportation options by working with ATP and from studying the benefits of making cities walkable in my courses at school. I am looking forward to seeing how I can further reduce time spent in my car and make my commute something that is enjoyable and not a source of daily frustration.