How I Commute To Work is a new series that highlights each team member of Arlington Transportation Partners, so you can see how we practice what we preach.
Let's just say I'm not the most patient person – I hate waiting in lines, sitting in traffic, single-tracking on the Metro, etc. That's why for my commute, I've managed to find at least four different ways that will get me to and from work faster. There are a lot of things that we can't control as commuters, however, with all my options, I'm able to determine the best way to commute depending on weather, traffic, Metro delays and changes in my work schedule.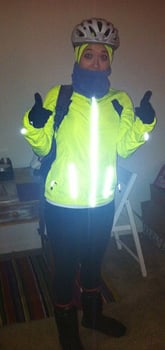 Bike
My primary mode of commuting during the work week is also my favorite, probably because it's the fastest. I ride my bike 3.5 miles from my apartment on U Street in DC to the ATP office in Rosslyn, never taking more than 20 minutes each way. I ride through DuPont Circle, Georgetown and then over the Key Bridge. There are some hills on my route, and with the wind during the winter, it can be quite the workout. Luckily, we have a shower for bike commuters at the office to clean up before the workday begins.
Not only is biking the fastest door-to-door commute, I also get an extra 40 minutes of exercise during the day that I wouldn't get in otherwise. Definitely makes me feel less lazy when I don't make it to the gym some days!
Bus + Metro
While biking is how I usually get to work, I really don't like to mess around with ice or snow. So on days like today or yesterday, I'll take one of the many buses down 14th Street (Circulator, Metrobus 52, 53 or 54) to the McPherson Square Metro Station, then catch a Blue, Orange or Silver Line train and ride the three stops to Rosslyn. In the morning and evening rush hours, the buses and trains usually come so frequently that I rarely have to wait more than five minutes for either. The whole trip usually takes around half an hour and gives me time to check my emails, browse Twitter and see things that I don't normally notice on my bike. For example, have you seen the construction progress at the Rosslyn Metro Station? The new Commuter Store is finally open!
Metro
When coming home from work, I much prefer the above option if I'm not biking, however, traffic during rush hour can crawl up 14th Street before Thomas Circle, sometimes taking 15 minutes just to go three blocks. Since that travel pace can drive me absolutely insane, I check Twitter and/or Google Maps to see how bad the traffic is before I get to McPherson. If it looks bad, I'll just take Metro all the way home, transferring at Metro Center to the Red Line, then transferring again at Gallery Place to the Yellow or Green Lines.
Circulator, Capital Bikeshare, Walk
Despite being impatient, there are some days when I don't mind spending a little time (and $$$) shopping in Georgetown after work. I'll usually take the Circulator, Capital Bikeshare or walk across the Key Bridge, then check out a few stores. To get home, I'll walk all the way back or ride Capital Bikeshare the two miles or so back to U Street.
I know that I'm lucky to live and work in such accessible locations, but having multiple options for getting to work, home and elsewhere gives me control over how I travel around while also keeping me mentally and physically healthy.