Compared to the rest of the team, I don't exactly have the most exhilarating commute; but it is without a doubt, one of my most favorite times of the day. Sure, sure…the sooner I get to the office, the sooner I can have my tea, but I've actually started to treat my commute as me time. And for that reason, it's not a strange occurrence that I might opt to take the bus instead of the Metro, just to have 10 more minutes for myself.
You know all the things you wish you did more often (random acts of kindness) or always say you'll do (read The Life Changing Magic of Tidying Up), but you feel like you just don't have the time to add one more thing (practice your Spanish in Duolingo) to your daily routine? Yeah, me too. But that's exactly why I love my commute.
I know you're definitely rolling your eyes right about now – yeah, yeah…a transit nerd loves her commute. Shock. But seriously, I don't waste my commute time. I'm always doing something, even if it's just a mental prep for the day.
I'mma give it to you straight – sometimes, I even give myself a little pep talk straight out of The Help…
You is kind. You is smart. You is important.
And you get the point! My commute time is also a chance to interact with people. I know a lot of individuals try not to interact on their commute, but I've found that my time on public transportation is the easiest way to slip in a little kindness to my day. A simple thank you to the bus driver goes a long way. And what about that person that dropped a glove? Yep, I've picked it up and walked down the bus asking if anyone lost it. I'm currently 3 for 3 in finding the owner and that little bit of gratitude makes it worth it.
So, how exactly do I get to work? You name it, I've done it and that's what I actually like most about my commute. I rarely take the same options twice in a day. Rated from most favorite to it does the job are my commute options from northwest DC to Rosslyn.
1. Metrobus > Metrobus
I live a block away from the S series on 16th Street. If I time it right, I can hop off around K Street and catch the 38B at Farragut Square, which practically drops me at the office front door. I love this option the most because it gives me more time to read, listen to podcasts or simply take in the scenery.
2. Bus > Metro > Walk
Similar to my Bus > Bus option, sometimes I need to opt in to the Metro. Usually I've spent too long cuddling my cat in the morning, so I need to make up for lost time. The Metro is definitely faster than the 38B, hopping on at Farragut West and off at Rosslyn, but this option includes a walk up a slow grade hill. I have no rational reason for hating the hill on Wilson Boulevard, but it drives me nuts. It's now a game of how often I can avoid the hill in the morning.
3. Capital Bikeshare > Walk
I'd like to think I'm as baller as my colleagues and ride my bike through the dead of winter, but I'm not. However, leading up to those finger numbing mornings in January, I was regularly riding Capital Bikeshare in the fall from my apartment in DC to Rosslyn. Average ride time is 26-27 minutes, winding through Georgetown and across Key Bridge, docking at the bottom of Rosslyn in under 30 minutes. Of course, this option also includes the dreaded hill. Seriously, it's not that bad, but I loathe it.
4. Capital Bikeshare > Metro > Walk
And in those moments when I think I want to bike in, but chicken out when snot freezes to my face, I take Capital Bikeshare down to Farragut West. From there it's two stops to Rosslyn and then of course, the hill.
5. Run
This is actually a new option for me, but when I started training for the Parkway Classic in January, I needed to get in a little extra run time. So I followed Keara home one day, not to sound like a total creeper. Similar routes as biking, but strangely enough, I don't mind running up hills as part of a workout. A fun little game I like to play is to see if I can beat an S series bus from the bottom of U Street to the top of Meridian Hill Park. I'm currently 2 for 3, with traffic giving me the upper advantage!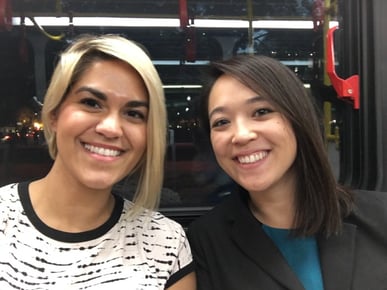 6. Walk > Metro > DC Circulator > Walk
Last but certainly not least is the DC Circulator. For the record, this one is only listed last simply because I don't take it that often. I usually travel up and down 16th Street for my commute, but when I'm on 14th Street, I take the Woodley Park – McPherson Square (Green) route. It's actually faster than Metrobus since it has less stops on 14th Street. So if I find myself on 14th after a workout in the morning or simply because I'm synchronized commuting with Keara, I'll Metro to McPherson, hop on the DC Circulator and then hop off around U Street and walk the rest of the way home.
So yeah – options is the name of my commuting game. Any way I go though, I make sure to enjoy the ride.
Do you have a great commuting story? We want to hear from you. Email solutions@transpartners.com.