Before I moved to the DC Metro area, I never lived outside the state of Texas. They say that everything is bigger in Texas, and it's true! It takes twelve hours to drive across the state despite having highway speed limits up to 85 mph. The major metropolitan cities sprawl across huge swaths of the state.
When I began driving to high school, my commute was over an hour each way in bumper-to-bumper traffic. The nearest public bus stop from home was a 15-minute drive away, so having a car was an unavoidable and expensive necessity.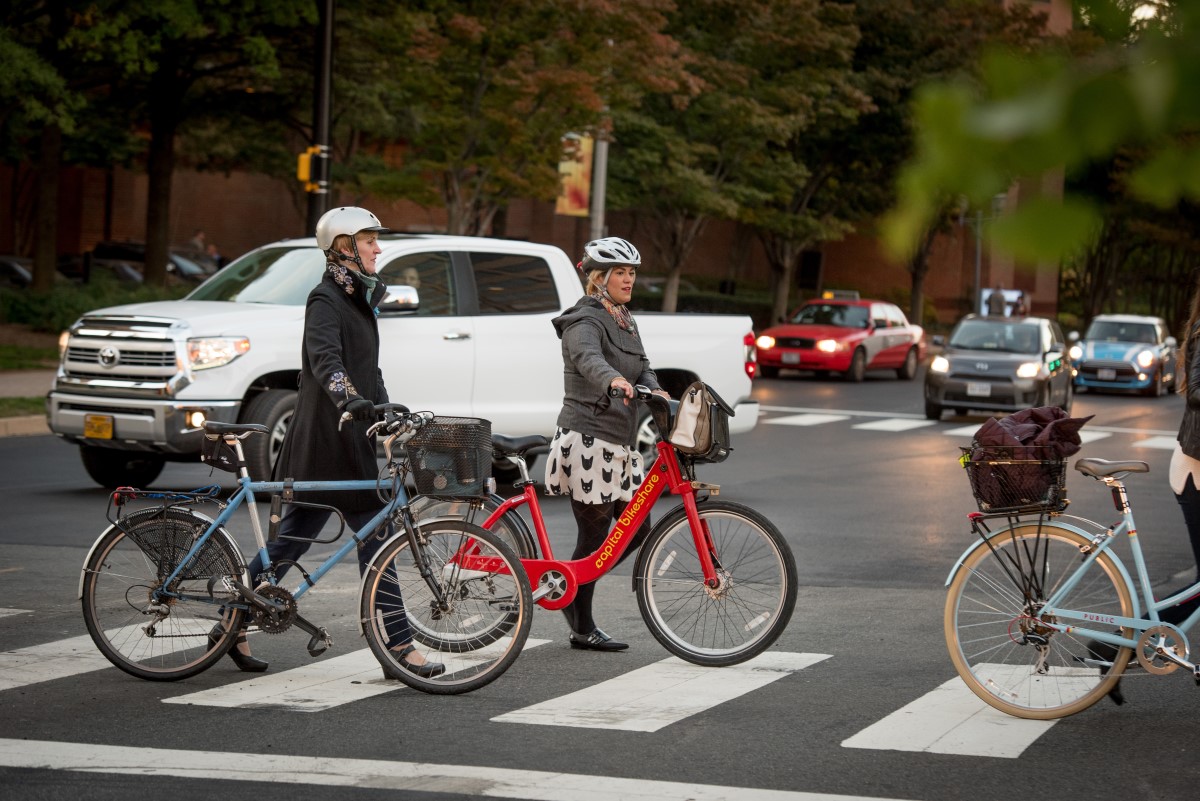 From Texas to Virginia
In late 2016, I had the opportunity to move to Arlington, Virginia and telework from my new home. This was the perfect chance to sell my car and rely on other modes to get around. The sheer number of options available to me was initially overwhelming, but it was all easily accessible and affordable.
I enjoyed exploring my new city on foot and found the Metro system quite easy to navigate. New friends told me horror stories about long driving commutes in bad traffic and I was thankful to eliminate my commute by teleworking.
Life at ATP
I joined Arlington Transportation Partners (ATP) in April as a Business Development Manager. I have a real commute now, compared to my previous route from my couch to my home office. I was excited to explore what commuting in Arlington is really like. For the first couple of weeks at my new job, I took Metro to work without any issues.
One of the perks of my new position is that my employer offers an annual corporate Capital Bikeshare membership. I discovered that I could cut 10 minutes off my commute time by bicycling to work instead of taking Metro. Having a more active commute was an easy way to fit a little more physical activity in my day, and I even lost a few pounds as a result.
Cycling in the City
Arlington was recently named the #1 city in America for bicycle safety. With more than 50 miles of scenic multi-use trails like the Mount Vernon Trail, bicycling in the city is both easy and enjoyable. I may not be the fastest cyclist on the road, and I'll admit to walking my bike up the hills in Rosslyn, but it beats sitting in traffic any day of the week.
What I've Learned
In my experience, one of the best things about living and working in Arlington is the luxury of not needing a car. There are so many transportation options available, but the only way to find out which one works best for you is to get outside your comfort zone. If you try something new, you just might discover a more enjoyable way to commute.
Want to Learn More?
If you're interested in promoting employee health and wellness, offering a Corporate Capital Bikeshare membership to your employees is a great way to encourage active commuting. ATP provides complimentary transportation expertise and program assistance that can enhance the commuter benefits offered at your workplace.
Photo Credit: Sam Kittner/Kittner.com for Arlington Transportation Partners