Greater Greater Washington wrote in March how one can bike safely and confidently in the city. The article offers many great tips on pre-planning, how to ride confidently and useful equipment to purchase. To continue to promote biking as a commute option in Arlington, we would like to build upon that list by mentioning all the additional facilities and helpful programs one can take advantage of in Arlington County.
While Arlington is not as compact as the District, that doesn't mean it is lacking in great facilities to get around on your bike quickly and comfortably. Arlington contains some of the most direct bike routes to major work hubs. In total there are nearly 100 miles of bike trails and lanes to take advantage of. The County is also dedicated to making riding your bike a safe and viable option for travel.
Side note: Recently, the Washington Post Express published an article that implied biking was perhaps less safe than we all thought. As Bike to Work Day approaches, we encourage you to read the reply from Greater Greater Washington that highlights a few key points and fallacies.
No, you don't have to ride on a road with cars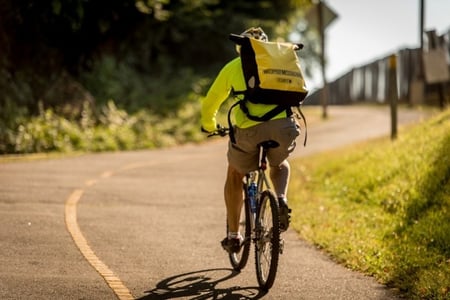 Arlington contains some of the best bike trail "highways" anywhere in the DC region. Arlington bike trails are 100% separate from traffic lanes and give riders direct routes into the County. The views are gorgeous, too!
Mt. Vernon Trail
The Mt. Vernon trail starts 13 miles south of Washington, DC at George Washington's former home at Mount Vernon. It travels along the Potomac River the entire way providing scenic views and a direct shot into Arlington via Alexandria. The trail has various exits along the way which allow you to connect to Four-Mile Run Trail, Crystal City, Pentagon City, the Pentagon, Ronald Reagan Washington National Airport and Rosslyn!
Washington and Old Dominion (W&OD) Trail
The W&OD Trail starts all the way up in Purcelville, VA and winds more than 40 miles down through Leesburg, Reston and Fairfax before ending in Arlington. Riders can use this fantastic trail to travel into Arlington and connect to either the Four-Mile Run Trail or Custis Trail to continue onto their destination.
Custis Trail
The short but highly trafficked Custis Trail runs from Bon Air Park to Rosslyn, creating the final link for those on the W&OD to the Rosslyn-Ballston corridor and downtown DC.
Four-Mile Run Trail
This trail offers a great connection to head for Shirlington or simply connect between the Mt. Vernon Trail and the W&OD Trail.
Pentagon City and Crystal City protected bike lanes
Arlington's first fully separated bike lanes are located on S Hayes St in Pentagon City and S Eads St in Crystal City. These offer a great connection when traveling in the area for those who don't want to ride near any traffic.
There's a map to show you which streets are easiest
Our friends over at BikeArlington have put together the region's first bicycle comfort map to help you decide which route works best for your riding level. You can find the downloadable version of it on their website.
The map color codes streets blue for easiest, yellow for medium and orange for difficult. The map is a great way to find low stress routes along trails and quieter roads.
If you want, you can easily and cheaply get a helmet
Visit one of Arlington County Commuter Services' Commuter Stores to purchase a Capital Bikeshare helmet for $16.
Check out Keara's blog on tips for biking to work in the winter
Our very own Keara Mehlert wrote a helpful blog this past winter on tips, tricks and equipment to make biking in the winter safe and easy. Check out her detailed guide and save it for later on when winter is closer.
Be a PAL
Arlington's Predictable, Alert, Lawful (PAL) campaign promotes the idea that all streets and trails are to be shared. People in every type of mode need to coincide together and making sure that everyone respects one another is a key to getting around safely. Whether you are driving, riding your bike or simply walking down the street – make sure you follow the three simple rules.
Predictable– travel in a predictable way; don't make sudden, unexpected moves
Alert– pay attention to your surroundings and to others around you
Lawful – obey the traffic laws, whether in a car, on a bike, or on foot
Bike to Work Day
Ready to try biking in Arlington? Register for Bike to Work Day, coming up this Friday. It's a great and fun way to test out a new commute with other like-minded people. You can also bike in a caravan if you're feeling a little nervous. Go on - give it a try!