Next up in our 4 part series on how to explore Arlington's memorials like a local (that means, using public transit) is Arlington National Cemetery.
Located across the Potomac River, at the end of the Memorial Bridge (which leads up to the Lincoln Memorial in DC), Arlington National Cemetery is a truly humble experience for both visitors and residents. Whether you stop in to pay your respects, watch the changing of the guard at the Tomb of the Unknown Soldier or visit JFK's grave site, getting to Arlington National Cemetery doesn't have to be a headache. In fact, it's pretty easy when you use public transportation. Check out three great ways to get to Arlington National Cemetery.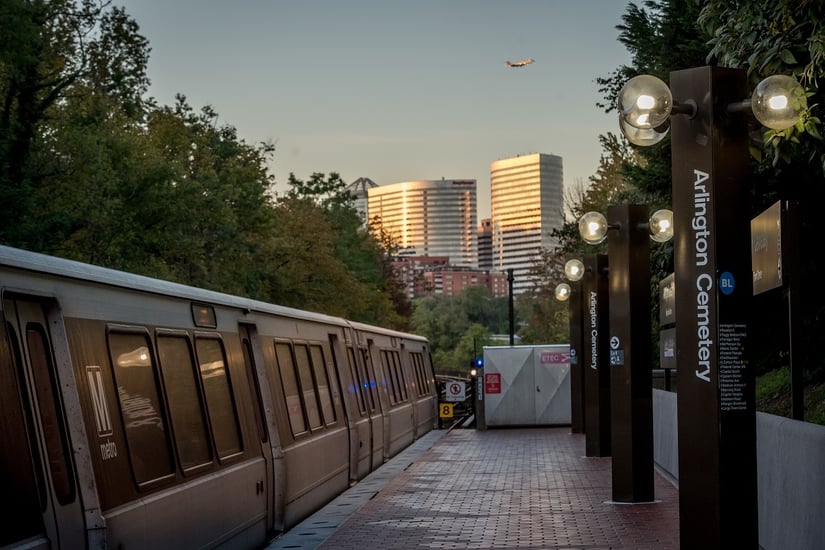 Arlington National Cemetery by Metro
Arlington National Cemetery has a dedicated Metro stop on the Blue Line. You can get on the Blue Line in Rosslyn (transferring from Orange or Silver) or at Pentagon (transferring from Yellow). From Rosslyn or Pentagon, Arlington Cemetery is only 1 stop away. Simply exit the Metro Station here and follow the signs to the entrance for Arlington National Cemetery. Download WMATA's Metrorail map to find your best route based on where your trip originates.
Arlington National Cemetery by Walking
If you're planning to visit Arlington National Cemetery, there's a pretty good chance you're already out and about checking out other memorials in DC.
Let's say you're already up to the Lincoln Memorial and you see Arlington Cemetery just across the Memorial Bridge. Instead of trekking all the way back to Smithsonian Metro Station or L'Enfant Plaza Metro Station, which is a 1.2 mile hike, you can use that time to actually walk to Arlington National Cemetery.
The walk from the Lincoln Memorial to the Cemetery Visitors Center is actually less than the walk back to the Metro Station and is exactly 1.1 miles. Check out the map below:
Pro tip: If you're up for more walking adventures, nearby is a Walkabout from WalkArlington that highlights the neighborhood of Radnor/Fort Myer Heights. Check out the details when you download the walking map. It doesn't get more local than that!
With any of these options, you managed to avoid the parking fee and traffic that comes with driving. So the real question is, how will you get to Arlington National Cemetery?
For even more information on visitor services or activities you can do in Arlington County, visit our friends over at Stay Arlington, your ultimate resource for visiting Arlington County. For Rosslyn specific information and additional activities in this urban village, check out the Rosslyn BID.
Photo Credit: Sam Kittner/Kittner.com for Arlington Transportation Partners