Everyone knows that one of the best parts of visiting Washington DC is being able to see all the amazing memorials. But to get the full memorial experience, visitors (and DC residents) need to cross the river and we know that can be scary – especially if you don't know where you're going. You wouldn't want to come all this way (or live here for years) and miss out on 4 major attractions:
Marine Corps War Memorial (Iwo Jima Memorial)
First up – Marine Corps War Memorial (Iwo Jima Memorial)
Before you get started, we recommend purchasing a SmarTrip card to make your trips easy, seamless and cheaper! We've written an informational blog on everything SmarTrip – no question was left unanswered.
Once you have your SmarTrip card – you're pretty much ready to experience the best Arlington County has to offer. So let's get started!
The Marine Corps War Memorial, commonly referred to as Iwo Jima, is located in the urban village of Rosslyn. When you visit Iwo Jima, you'll also get a great view of DC across the river and a bonus memorial sighting with the Netherlands Carillon right next door.
So how do you get there? Take your pick – 3 great options are listed below.
Iwo Jima By Metro
Rosslyn Metro Station is located on the Orange, Blue and Silver Lines. Wherever your trip originates, you will need to make sure you exit the Metro Station at Rosslyn, in Arlington, Virginia (circled below).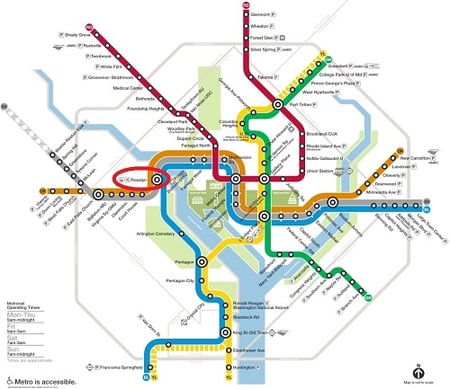 From Rosslyn Metro Station, Iwo Jima is a 14 minute walk (.7 miles). View the map below for walking directions.
Iwo Jima By Bus
To get to Iwo Jima by bus, you'll need to take any bus into Rosslyn. Your options are listed below, click any route to view a full timetable and map.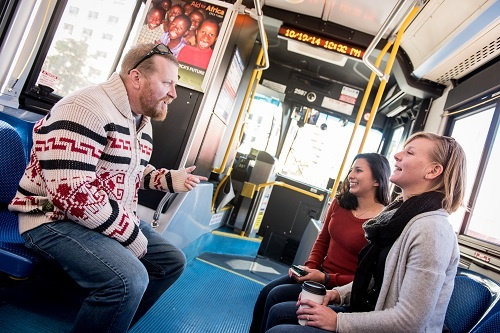 Metrobus 38B (runs from Ballston-MU Metro Station to Farragut West Metro Station and vice versa, with stops in Rosslyn)
ART 43 (runs from Crystal City to Courthouse and vice versa, with stops in Rosslyn) - Note that ART 43 only runs M-F, during rush hour
ART 45 (runs from Columbia Pike to Rosslyn and vice versa, terminating at Rosslyn Metro Station)
Once you have arrived in Rosslyn, use the walking map above to get to Iwo Jima Memorial.
Iwo Jima By Capital Bikeshare
Capital Bikeshare is a really fun way to get around Arlington County and Washington DC. For $7 a day, visitors can use a bike for 30 minute intervals, free of charge; after 30 minutes, there are usage fees.
Local pro tip: Bikeshare is a transit system and not meant to be kept like a bike rental. Return your Capital Bikeshare bike to any station once you've arrived at your destination, then check one out again when you're ready to roll. Arrive in under 30 minutes and you'll only pay $7 all day! For more information on usage fees, visit the Capital Bikeshare website.
After you've arrived in Rosslyn by bus or metro, check out a bike from the nearest Capital Bikeshare station, located at the corner of N. Fort Meyer Drive and Wilson Boulevard. We've highlighted Rosslyn Metro Station and the Capital Bikeshare Station on the map below. To find other nearby Capital Bikeshare stations, use this interactive station map.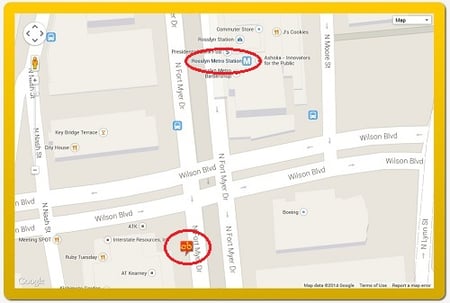 You'll then take a short ride down N. Fort Myer Drive, onto N. Meade Street and find a Capital Bikeshare station at the top of the memorial. Map below:
You may ride your bike around the memorial, but remember to be respectful and not ride in pedestrian only areas.
So there you have it, Iwo Jima by public transportation. There's no reason to rent a car, pay parking fees or risk getting caught in traffic when you can use Arlington County public transportation to get you there. Whether you're a visitor or a resident, seeing what Arlington County has to offer has never been easier.
Stay tuned for the next blog in our series where we'll be featuring Arlington National Cemetery.
In the meantime, for even more visitor information, check out our friends over at Stay Arlington. For Rosslyn specific information and additional activities in this urban village, check out the Rosslyn BID.
Photo Credit: Sam Kittner/Kittner.com for Arlington Transportation Partners