Here at Arlington Transportation Partners (ATP), we love an office celebration as much as anyone else. Birthdays, weddings, and baby showers, we've had it all. Sometimes, a potluck isn't enough—or sometimes it's too much (five casseroles and nine desserts). There are active ways to celebrate special occasions, support employee wellness, and improve office morale. Check out a few ideas below.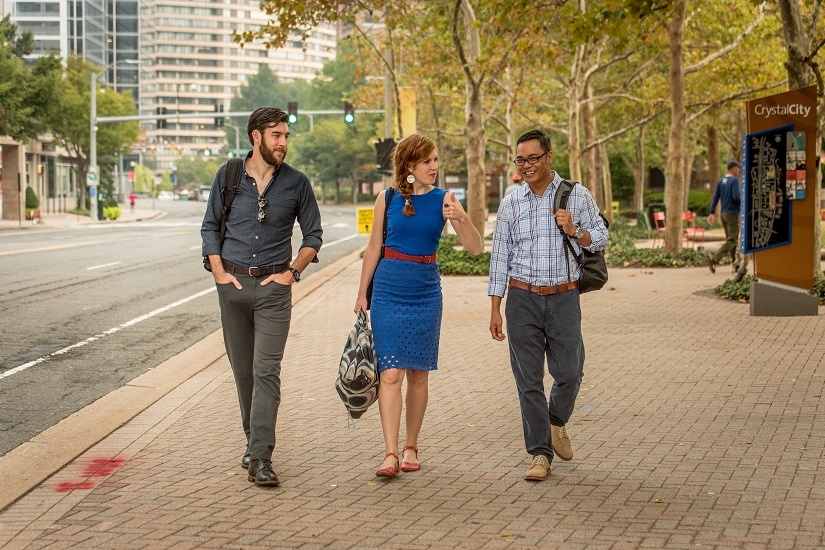 Walk or Bike Your Way to an Office Party
It doesn't take much to keep your employees happy. Planning fun activities on a regular basis shows how much they are valued. Walking, biking, and even adopting an ART bus stop are all good ways to build camaraderie.
Walk to your celebration
Sure, you could have cupcakes delivered for a staff baby shower party. Or you could find the closest sweet treat place within walking distance from your office and invite everyone to walk there. A bit of exercise, a chance to chat away from the office, and a break from the routine will perk everyone up and keep them going long past the sugar crash.
Give the gift of Capital Bikeshare
Capital Bikeshare memberships come in many different sizes, so there is a way for every office to give the gift of a free bike ride. Try the 24-hour pass, the single ride option, or become corporate members and give everyone an annual membership. Already a corporate member? Contact us to schedule a training class for everyone to improve their skills. The team building that comes for a group bike ride is a gift that gives back—thank us later for the increased employee retention.
Adopt an ART bus stop
We know what you are thinking—how does a bus stop help my employees celebrate? Adopt a nearby ART bus stop in honor of all your employees for a very public thank you. Plan an initial ribbon cutting event, then once a year, have a team walk to the bus stop after you have renewed your adoption. We won't judge if you adopt the stop closest to your favorite donut shop for added incentive.
Events the ATP Way
Whether it is walking, biking, or adopting a bus stop, ATP can help you plan your next office celebration. We can help you decide which option works best for your company, locate the closest adoptable bus stop, or set up Capital Bikeshare corporate accounts.
Photo Credit: Sam Kittner/Kittner.com for Arlington Transportation Partners