Independence Day is around the corner and this year promises to bring in vistiors from across the county to celebrate and attend the DC area firework. After two challenging years, travel levels around the country are almost back to pre- pandemic levels with hotels full of visitors, streets bursting with tourists, and cities offering all sorts of entertainment and services.
This a great opportunity for hotels in Arlington to take advantage of the outstanding amenities and features that the area has to offer.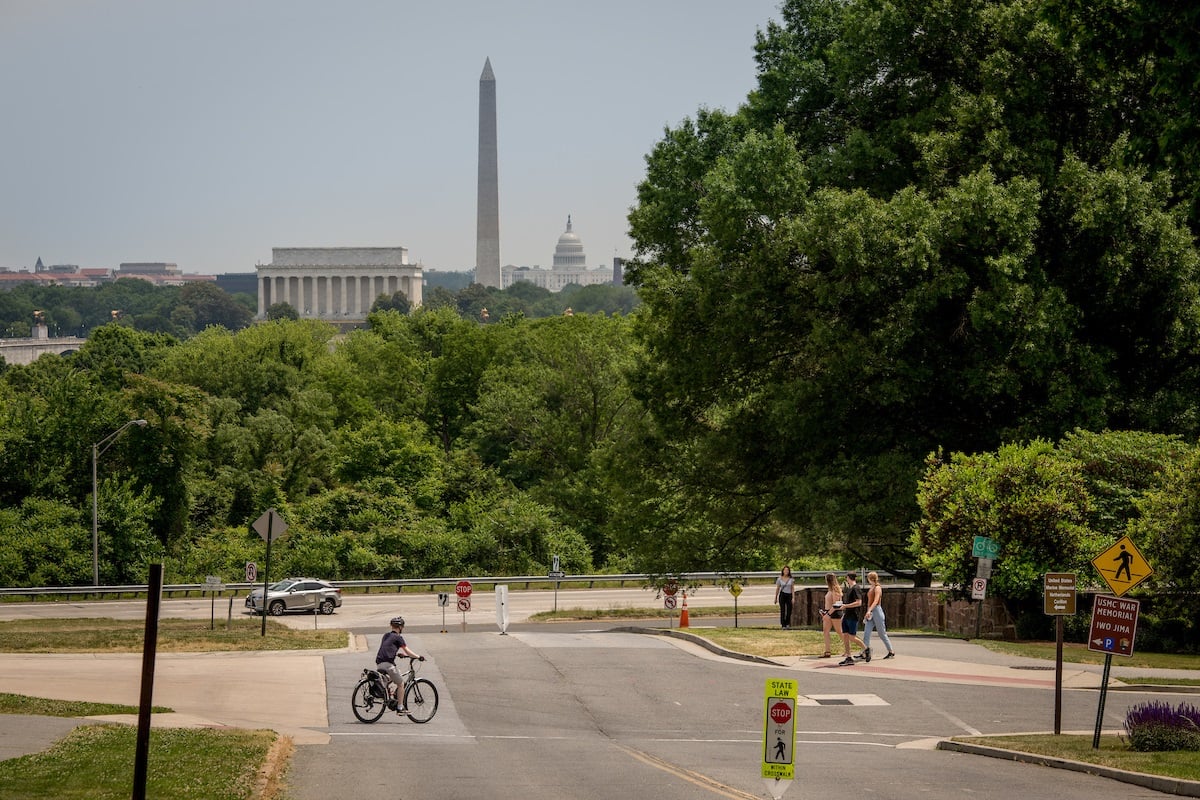 How Your Visitors Can Watch the Fireworks
Arlington has several locations that offer prime viewing of the fireworks on the National Mall. Make sure to inform your visitors as soon as possible about all their options as these spots tend to fill up throughout the big day.
Arlington Transportation Partners has a few favorite spots and here's how your visitors can bike or walk to these locations.
Iwo Jima Memorial
The US Marine Corps Memorial, also known as the Iwo Jima Memorial is located in Rosslyn. It provides a great vantage point as it sits upon a hill top overviewing the capital. Rosslyn is very easily accessible by Metro on the Orange, Blue, and Silver lines, as well as several Metrobus and ART Bus stops. Your visitors can also take advantage of Capital Bikeshare as there is a station located right behind the Memorial.
US Air Force Memorial
Located on another hill in Arlington, the US Air Force Memorial offers another great vieiwing point for the fireworks. This location fills up quickly on the 4th, so advise your visitors to arrive early and save their spot. Visitors can access the Memorial by foot from the Pentagon Metro Station. Metrobus 16 routes also run fron the Pentagon Metro Station and will stop at the Air Force Memorial.
Long Bridge Park
Located at the tip of National Landing, the park provides ample space from which to view the fireworks. Visitors can take a 15-minute walk from Crystal City Metro Station on the Blue and Yellow lines to travel to the park.
Gravelly Point
Very popular with locals and tourists alike, Gravelly point is located right by Reagan National Airport. Visitors can bike to the area using the Mount Vernon Trail from Crystal City to the south and from Rosslyn further north. An added fun activity is to watch airpplanes take off and land while visitors wait for the fireworks to start.
Stand Out with Curated Room Packages
Your hotel can attract more visitors and stand out from the competition by providing a cureated room packages with pre-loaded Smartrip cards as well as Capital Bikeshare passes which would enable your visiots to travel to the above mentioned locations. Contact Arlington Transportation Partners to learn more about curated packages and how you can set up a transportation strategy to attract more visitors this summer. You can also download ATP's Regional Transportation Guide and share it with your visitors to inform of their options for travel around the region.
Fourth of July Toolkit
There are plenty of ways to see the fireworks around Arlington County. Share our Fourth of July toolkit with your visitors so that they are fully prepared to enjoy this national holiday. Happy 4th!
Photo Credit: Sam Kittner/Kittner.com for Arlington Transportation Partners