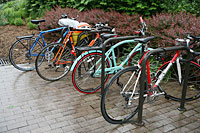 Yesterday, The Atlantic Cities posted an article called "Here's How to Get All Your Timid Friends on Bikes" and specifically recommends a book called Everyday Cycling. The book features tips for beginning cyclists and those are who just aren't interested in joining the spandex-wearing, 20 miles-a day club. I'd love to get my hands on a copy at some point and see what other advice the book has for getting people on a bike. As my friends will tell you, I'm always trying to convince them that biking is "awesome!", "sooo easy!", and "really convenient!"…but I know at the end of the day, just saying those things are not going to transform them into the savvy urban cyclists I wish everyone could be. I know from personal experience there are definitely some hurdles, both mental and physical, that one has to get over to start biking, however, once you do, it can really lead to a whole new lifestyle.
Until about a month ago, while I have always been a fan of the idea of bike commuting, I myself was pretty adamant about not biking to work. In addition to not really having ridden a bike since high school, I had plenty of concerns that I'm sure are barriers for other people too. For example, I didn't know where I would put my work clothes and other things that I typically carry with me, I wasn't sure how sweaty I would get and if I would need to shower, and mainly, I wasn't comfortable biking on city streets.
However, with the positive encouragement and advice of coworkers (over a third of our office bikes to work), I decided to try commuting to work on my bike. I bought a basket to put some of my things in and managed to find a way to neatly pack my work clothes in a backpack. Since it's been chillier in the mornings, I've found that I don't get too sweaty, therefore I don't need to shower when I get to work. As far as biking on city streets, it's become much easier and less nerve-wrecking the more I've done it. It definitely takes getting through those first couple times to feel more comfortable, as well as finding a route that is safe and easy. To get to work, I mostly bike on side streets, or on roads with a bike lane so I feel pretty safe on my commute.
I bike to work pretty consistently now, and I couldn't enjoy it more. I like how I can leave my apartment later in the mornings since I'm no longer at the mercy of the bus schedule. I also get an extra forty minutes of exercise each day that I wouldn't normally get if I didn't bike. Obviously, there are things that I'm still learning, such as the need for front and rear headlights, especially now that it's dark in the evenings. I also have had to buy some better clothing that is more suitable for biking - I've realized that fleece jackets just aren't going to cut it. In addition, I've come across a few maintenance issues that I haven't been sure how to deal with; while I'm lucky I work with a bunch of bike experts, I'll definitely need to take a basic maintenance/repair class at some point.
I know it's not easy to get on a bike and everyone has their reasons for not doing so, but I will say that just getting over that first ride helps make the next rides easier and easier. If you know someone who's familiar with bike commuting, don't be afraid to ask them questions or even ask them to ride with you a couple times. Also, if you're just starting out, you don't need to get caught up in all the gear and tools and other bike things that can intimidating - just go out there with what feels most comfortable! Finally, let us know – what would it take for you to start biking? We're always trying to make it easier and safer for people to get on a bike!
Check out BikeArlington for more information biking in Arlington or contact ATP to learn about alternative commuting programs and benefits!