I've been walking or running for most of my trips around town since I first went car free in 2010. My tagline is basically, "there's nothing more reliable than your own two feet." This past Saturday was no different, I followed all rules of the road and trail correctly, but as much as I could rely on my own two feet, I couldn't rely on a car to stop.
Like most Saturday mornings, I started my day by running to the Falls Church Farmer's Market. My run takes me along Washington Boulevard to Lee Highway before I veer off onto the W&OD trail for the last quarter of a mile. This particular morning was perfect. I typically hate summer runs because I'm not a fan of the heat, but it was sunny, low humidity, 75 degrees with a light breeze.
When I got to the W&OD, it was booming with pedestrian and bike activity. I nearly stopped to take a picture of all the people out on the trail, but didn't want to slow down since it was my last leg of the trip. I approached the intersection where I get off the trail to make my way to the farmer's market. A car stopped for me and I ran halfway through. The car on the other side slowed down, but once I got in front of the car I realized it was still rolling. I slammed on the hood of the car to try and alert the driver, but the vehicle continued and pushed into my stomach causing me to fall and roll underneath of it. I heard my head hit the pavement and the next thing I knew I was gathering myself to get up with my foot resting next to the car's front left tire.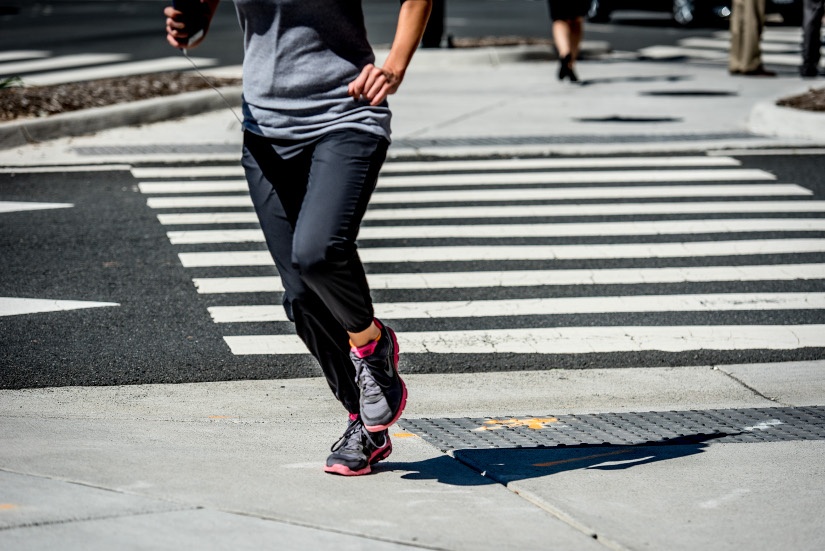 As a pedestrian living in Arlington, I benefit from sidewalks, marked crosswalks, walk signals, pedestrian signs and multi-use trails that make me feel safe, but despite having so much of this infrastructure available right at the intersection, I was still involved in a crash. This is where education is so important, because it is on everyone, regardless of how you choose to get around, to know what to do if you are involved in or if you witness a crash.
If You're a Pedestrian or Cyclist Involved in a Crash
Do not assume you are ok
Immediately following the accident, I could walk and talk, and physically all that I saw on my body at the time was a bruise. I felt no pain, so I assumed that I had not been injured in the accident. The clues came later when 20 minutes after the incident, I nearly passed out, and two hours later when I realized both my knee and my hip were swollen and in pain and I was experiencing symptoms of a concussion.
Ask for the driver's information and call 911
My boyfriend contacted the police when he arrived on the scene but at that time I had already let the driver go on her way without more than a first name and town that she lived in. While as the pedestrian or bicyclist, you should not be held responsible for obtaining this information, considering you're probably very shaken up, if the idea comes to mind to ask, do so for your own safety.
If You're a Driver Involved in a Crash
Provide your contact information, even if it was refused or wasn't asked for
When the driver asked if she should give me her contact information, I said "that's ok" because I wanted to be nice and I wasn't thinking clearly. I couldn't connect the dots. I couldn't see how having the phone number of the person who just rammed into my stomach with their vehicle could possibly protect me.
As a driver, when you hit someone who has no protection, you cannot expect that individual to make appropriate decisions. If you want to do something to help the individual, providing your information is the simplest thing you can do. In many cases, the pedestrian/cyclist really will be okay and you will never have contact with the individual again. The alternative, however, could leave you questioning if the person you hit ended up being ok in the end.
Contact the authorities, in the name of research
The driver insisted that the road should have stop signs, rather than a "State Law: Stop for Pedestrians" sign and two neon yellow signals indicating the road's intersection with the trail. If we had contacted the authorities about the accident, it could have provided useful data, not just regarding the crash, but also to help inform better road design at places where crashes like this take place.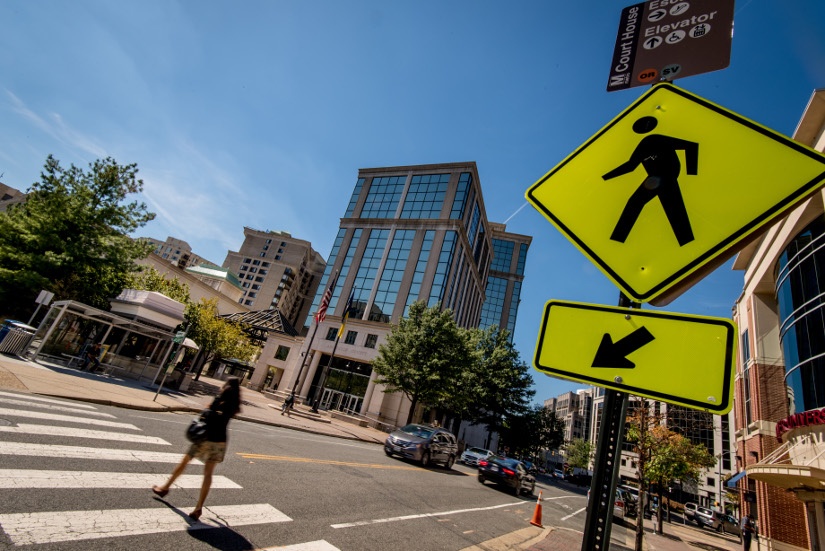 If You're a Bystander
Understand that you're the only one who may be thinking correctly
When a crash happens, both the driver and the pedestrian/cyclist may be very shaken up and not thinking clearly about what the next steps. When my brain caught up with what had happened, I said to myself internally, "What do I do now", but my mind was blank. Bystanders may be the only people who can put a clear thought together in the moment and therefore can play a pivotal role in helping guide those involved in the crash through the next steps.
Do not assume anything
Bystanders may make a couple of assumptions when they witness a crash: whether the person hit is injured and/or whether someone is contacting the authorities. As I walked away from the crash, a crowd gathered a few yards away from where I was speaking with the driver, discussing the incident and yelling to ask if I was ok but ultimately taking no further action. If you witness a crash, do not fall privy to the bystander effect, assuming someone else has taken care of things. Contact the authorities even if you think someone else may already have done so.
It's on All of Us
While you may not know me personally, what happened to me could happen to anyone, your friend, your coworker, your family member or even you. Everyone walks for some part of their journey, even if it is just from the store to their vehicle in a parking lot.
We need to start talking to each other and caring about everyone who interacts with the road, whether as a driver, pedestrian, bicyclist or transit user, not only so that crashes like these don't happen, but so that we know how to support someone when they do.
Our Shared Street is a campaign created with the goal of sharing our experiences so we can better understand each other's actions on the road, the sidewalk, the bike lane or the bus. Sign up below to receive updates or share your story with us.
Photo Credit: Sam Kittner/Kittner.com for Arlington Transportation Partners