Arlington Transportation Partners (ATP) is excited to announce the Hyatt Regency Crystal City as July's Champion of the Month! It's not easy to be selected as one of our top-tier employer Champions, but the Hyatt Regency Crystal City continues to deliver when it comes to outreach, commuter benefits and promoting alternative transportation. You may even remember their hotel, as they were the host of our most recent Annual Champions Award Ceremony!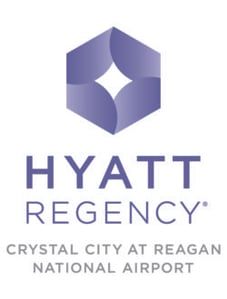 The hotel itself is located less than a mile from Reagan National Airport and the Crystal City Metro Station, giving quick access to two of the area's most important transportation systems. The location offers stunning views of the nearby airport, downtown DC and Arlington. The hotel also has more than 53,000 of flexible space for events.
You'd be surprised by the number of employees behind the scenes who need ways to get to work every single day. Not only that, hotels run 24-hours a day and require special thought so every employee can get to and from work. The Metro doesn't run between midnight and 5am on weekdays and before 7am on weekends – so it's crucial to help the hotel's workers find every possible mode to make it to their shift on time.
Since joining ATP's Champions, the Hyatt Regency Crystal City has continued to add to its stellar suite of transit benefits. Aside from having pre-tax SmartBenefits already in place, employees can also take advantage of shuttles to and from the Metro.
Last year, the hotel began offering discounted Capital Bikeshare memberships to employees. The annual memberships allow employees to easily traverse the bike-friendly streets of Crystal City. Whether going to lunch a few blocks from the hotel or coasting down from the Metro, the bikeshare benefit is just one more facet of their robust benefits program.
We are so proud of July's Champion of the Month, the Hyatt Regency Crystal City, and look forward to bestowing the honor on one of our other deserving Champions in August!
Would you like to be featured? Shoot us an email at solutions@transpartners.com to find out how.