The direct advantages of Capital Bikeshare have been widely praised since the program began– riders benefit from things like affordability and convenience, however a recent article reports on the growing trend of CaBi users actually buying their own bikes as a result of using the bikeshare system. Initially, many local bike shops were worried their business would suffer due to riders choosing to pay for a bikeshare membership rather than buy their own bike. However, casual CaBi riders are instead finding themselves purchasing their own bike after using the bikeshare system and getting a taste of biking in the city. Bike shops are seeing more bikeshare users come in looking to buy a new bike, or bringing in old ones for tune ups. Have you considered buying your own bike after using bikeshare?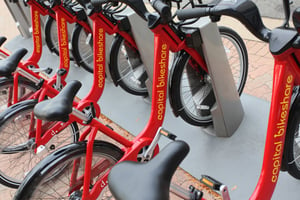 The benefits of Capital Bikeshare were also highlighted in their recently released member survey, which describes travel changes and demographics among bikeshare members, as well as trip purposes and characteristics. Some notable findings from the survey include: 80% of survey respondents said they bicycled more often now than they did before joining CaBi; 38% of respondents with access to a car reduced their driving miles by an average of 523 miles annually; about half of respondents stated that they made a trip in the past that they would not have made without bikeshare. In addition, survey respondents reported saving on average, $819 a year in transportation costs, which would amount to $15 million a year across all 18,000 bikeshare members! Those are some definite advantages to bikeshare, try it out if you haven't yet!
In CaBi expansion news, the draft final of the Arlington County Capital Bikeshare Plan was released last week and is now open to public comment through July 25th. The plan, which is based off of the public feedback received during the Spring comment period earlier this year, reviews the best areas for expansion of the system in Arlington, as well as a timeline for the next six years. To learn more about the plan or share your thoughts, be sure to attend the public meeting next Wednesday, July 11th at 7pm!
Finally, for those who read the Express newspaper on your commute, you might have noticed the recent article about the increase in apartment buildings that are offering bike facilities for residents. As bicycling grows in popularity, residential properties have seen an increased demand for perks such as secured bike parking, bike-repair services, and free loaner bikes for tenants to use. These bike-friendly amenities make it easier for residents in DC and Arlington to leave their cars at home and get around by bike. In addition, as more multi-family properties are being developed throughout the area, these facilities can give apartment buildings a leg up on the competition when trying to attract tenants.
Happy biking everyone! For more information on bicycling in Arlington or the Capital Bikeshare expansion plan, feel free to contact BikeArlington; for questions about how your company or property can become more bike-friendly, contact ATP.