Next Thursday, June 20 is National Dump the Pump Day, sponsored by the American Public Transportation Association! In its 8th year, Dump the Pump Day is a national celebration that encourages drivers to leave their car at home for the day and instead use public transit to get to work, school, or run errands. In the Washington, DC region, drivers can save over $9,800 a year or $800 a month by switching to alternative modes of transportation and reducing their costs on gas, maintenance, and insurance.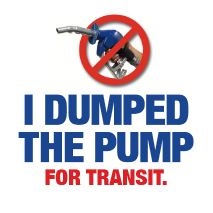 By riding the bus, taking Metro, biking, or walking to work, not only can commuters save money, but also may see significant improvements in their physical and mental health. Recent studies have shown that public transit users are much more likely to get the recommended amount of daily exercise than those who drive regularly. For employers, these health benefits have important advantages when it comes to recruitment, employee retention, and productivity within a company. Encouraging employees to take public transit or other alternative modes of transportation can have a positive impact on an organization's bottom line and also meet corporate sustainability and wellness goals.
Join us on June 20th by dumping the pump and choose public transit or biking/walking for your commute to and from work! If you are unsure about what your options are on public transit, you can request a personalized commute planner from ATP – we'll find the best routes to get from your home to the office without using a car. Contact us today!