It's no secret that biking both for transportation and recreation has grown in popularity in the DC region over the past several years. The installation of bike facilities, promotion of local programs and expansion of Capital Bikeshare have had a major role on increasing the number of bike commuters in Arlington and DC.
Through Arlington Transportation Partners' (ATP) work with residential communities and employers, we have seen firsthand bicycling's growth. For example, buildings are looking to install new bike parking, employers have their own Bike to Work Day celebrations, as well as the high demand for maps and other bike information. However, we have also noticed that it is increasingly important to remind residents and workers in the County about tips and information that can prevent theft of one's personal bike. Check out a few resources on bike security.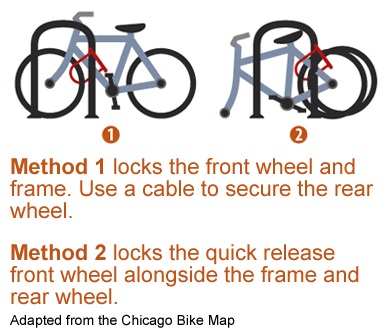 BikeArlington is a great resource for advice on how best to keep your bike from getting stolen. Main takeaway: use a U-lock! Even if you temporarily park your bike in a secure access room or bike cage in the garage, using a U-lock adds an extra layer of security for your bicycle.
Arlington County Police Department also lists comprehensive recommendations about keeping your bike secure as well as general riding safety and bike maintenance information. Additionally, ACPD offers its own bike registration program, an initiative that many people are not as familiar with in the County. Unlike the National Bike Registry, which charges a small fee to register your bike (but is useful throughout the country), ACPD's bike registration is free to sign up and provides information to local law enforcement about your personal bike, should it get stolen.
To register and receive your bike decal from ACPD, visit the link here – remember, you can fill out more than one form for each bicycle you own.
If you are a new bike rider or just started living or working in Arlington, take advantage of these great free resources to keep your bike secure.
For employers or property managers, become more bike friendly by sharing this information with your employees or tenants. Contact ATP learn more about the above programs and additional ways to encourage biking in the community.
Photo Credit: BikeArlington