It's happened to all of us, you're walking down the escalator to catch your train when you suddenly hear the loudspeaker turn on to let you know that there is an issue causing delays along your Metro line. A system as complex as Metro can run into issues, just like any other form of transportation will eventually run into problems. Traffic jams can move at a snail's pace for hours, your bike can get a flat tire, a sidewalk can sometimes be closed due to construction and the list goes on.
The fact is, all forms of transportation will eventually bring about the unexpected, but knowing alternatives can make those unexpected situations easy to traverse.
The great news? Arlington has plenty of alternative modes to travel throughout the area, it's just a matter of knowing your options. In this new series we will be highlighting some of the lesser known ways to get in and out of Arlington County.
Bus Alternatives
38B (Ballston > Farragut Square)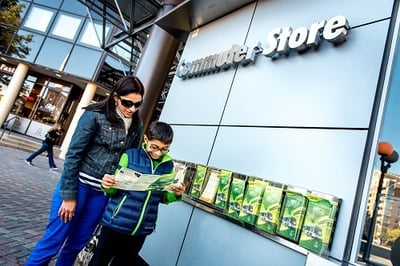 The 38B is an above-ground favorite for those travelling throughout the Rosslyn-Ballston corridor. It also happens to be one of the best ways to reach Georgetown and Farragut Square in DC. If you frequently use the Metro to travel along this corridor, the 38B runs at frequent intervals during rush hour and will get you to your destination between Ballston and Farragut Square in a timely manner. It also works as a great tool to reach the red line at Farragut North without having to transfer at Metro Center.
Real life story time: Our Marketing Manager, Maggie Awad, used the 38B to get to work the other week after extensive delays along her normal route. She walked from McPherson Square to Farragut Square to pick up the bus which was running every 7 minutes.
13Y (Ronald Reagan Washington National Airport > Crystal City > Union Station)
The under-utilized airport to downtown DC bus works as a great alternative when traveling between Crystal City/Pentagon City and DC. The bus serves as a reliable way to cross over the Potomac without having to use the Yellow or Blue Lines. The bus stops at enough Metro Stations to serve every single Metro Line and is a great way to transfer when the need arises to find an alternative mode.
DC Circulator (Rosslyn > Georgetown > DuPont Circle)
The DC circulator runs predominantly in Washington, DC, but one particular route makes a quick stopover in Rosslyn. The DuPont Circle – Georgetown – Rosslyn route works as a constantly available alternative to making your way to Georgetown or transfer points for the Red Line.
Metroway (Crystal City > Braddock Road Metro Station, Alexandria)
During rush hour the Metroway runs every 6 minutes between Crystal City and Alexandria. The bus even has its own permanent bus-lane along the Route 1 corridor, completely separate from other car traffic. Once you reach the Braddock Road Metro Station, you can use one of the many DASH bus and Metrobus routes to continue to your final destination.
The Silver Line has brought an amazing new way to travel from Reston into Arlington County. However, there are still bus routes that travel from the area that could actually speed up your commute time and offer alternatives when required. The Fairfax Connector 599 runs during rush hour periods and shuttles you between Reston and the Pentagon/Crystal City Metro Stations in as little as 55 minutes.
And just in case the bus isn't for you…
Capital Bikeshare
Capital Bikeshare stations are located throughout Arlington County and can serve as a great tool to commute or as a way reach another Metro Line that is running on-time. You can find your nearest Capital Bikeshare station by going here or by downloading the SpotCycle app.
The Metro remains a great tool for people to commute to and from Arlington County, but it's always great to know you have additional options when the need arises. Buses, Capital Bikeshare and even walking are all great backup plans when you travel.
Can't figure out the best alternative? Email solutions@transpartners.com and we'll create a custom commute, just for you!