Are you a real estate developer in Arlington? A property manager in a building considering LEED certification? Or perhaps you're interested in retrofitting your office as a green office space? Across the United States, real estate developers and property managers are paying more and more attention to creating environmentally friendly buildings and workspaces for tenants. Arlington is no different, with several existing LEED buildings, and several more under construction.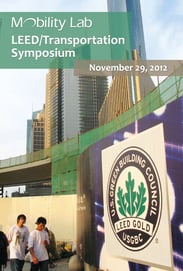 Whatever your interest in LEED, transportation and alternative commuting programs can play a key role in maximizing your points for LEED certification. To help you get the most out of your project, our partners at Mobility Lab have developed a LEED/Transportation Symposium, which will be held on Thursday, November 29th. This event will provide insights on how incorporating alternative transportation strategies can help you accumulate significant points toward LEED status – and improve the bottom lines of your projects.
The event, co-hosted by Arlington Transportation Partners and Arlington Economic Development, will be held on Thursday, November, 29th. For more information, and to register, please click here.
This will be a great opportunity to network with other professionals, as well as to learn more about LEED and the role transportation plays in certification. We hope to see you there!