Commuter Connections honored three local companies at its 22nd annual Employer Recognition Awards at the National Press Club. The winners received top marks in the award categories for incentives, marketing, and telework. These innovative employers helped to save 8 million gallons of gasoline per year, while enhancing the health and happiness of their employees.
Encouraging Employees to Adopt Change
Incentives and commuter benefits encourage employees to make sustainable transportation choices for their commute. Toole Design Group, a planning, engineering, and landscape architecture firm, was able to incentivize 92% of its employees to commute via transit, walking, bicycling, or teleworking.
Educating commuters on available benefits and transit options is a key part of promoting sustainable commuting behaviors. Washington Headquarters Services (WHS) made it easy for Department of Defense employees to learn about their transit options at transportation events, in addition to digital communications, custom brochures, and a transportation hotline. Their targeted marketing efforts helped to keep employees off the road for more than 162,377,800 miles.
Teleworking has become an increasingly important business strategy in the DC Metro region, with up to 32% of employees teleworking at least occasionally. In 2010, Aircraft Owners and Pilots Association (AOPA) launched its Work-Life Balance program to give employees the option to telework. This allowed AOPA to consolidate an out-of-state office while retaining staff, decrease overall turnover, and enhance employee satisfaction.
Your Impact on Arlington
Whether you're a long time Arlington area employer or have just relocated to the area, Arlington Transportation Partners (ATP) can help your company gain and retain the best employees through competitive commuter benefits and targeted outreach. Whether you are looking to enhance commuter benefits and amenities, implement a successful telework program, or boost awareness of sustainable commuting options, ATP works with you to create tailored transportation programs that meet your organization's unique needs. ATP's complimentary transportation services enhances employee satisfaction and productivity at your workplace.
ATP was honored to receive the Employer Services Achievement Award, which recognizes one jurisdiction in the DC metropolitan region for outstanding outreach and encouragement of sustainable transportation options for commuters.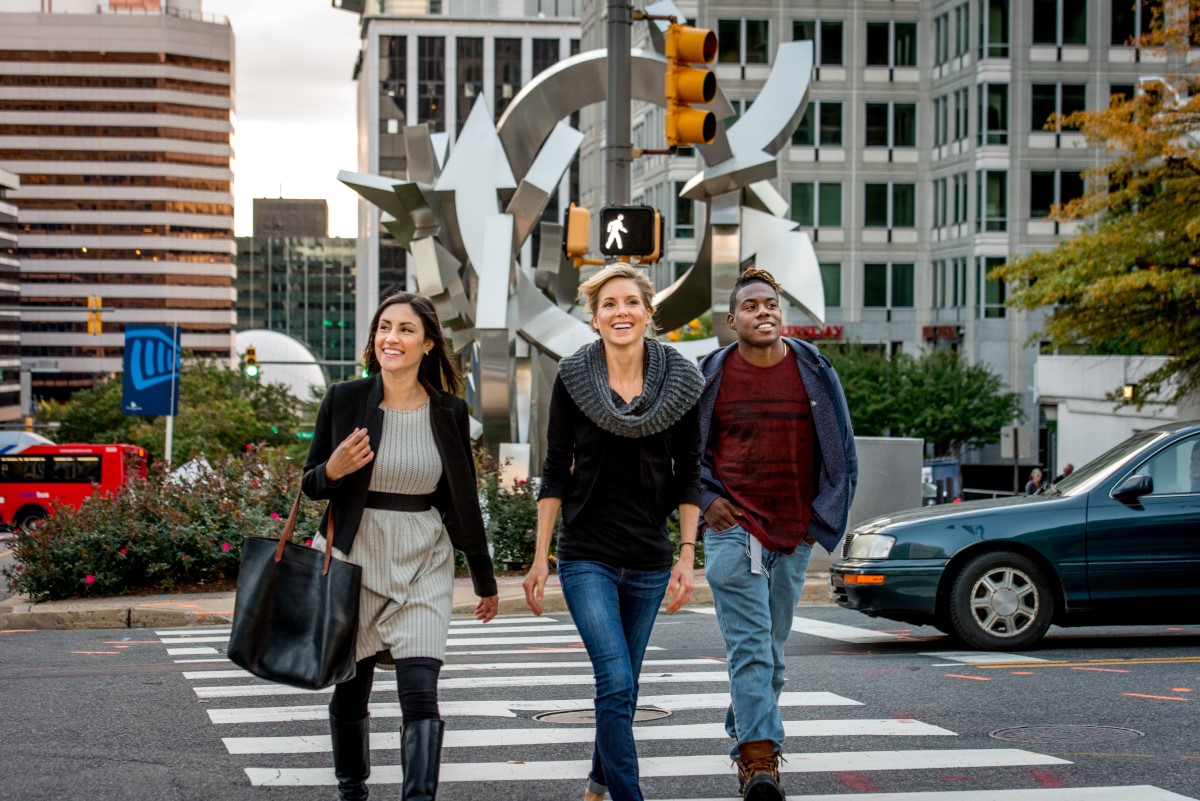 Connect with Us
These exceptional employers demonstrate the impact that competitive commuter benefits can have on an organization, its employees, the community, and the environment. If you want to offer any of the benefits or programs mentioned in this article, ATP's award-winning team can help. Contact us today for complimentary transportation assistance at your workplace.
Photo Credit: Sam Kittner/Kittner.com for Arlington Transportation Partners