On March 23, Virginia governor Ralph Northam , who ordered the closure of non-essential retail businesses to reduce the spread of COVID-19 advised Virginia employers to maximize teleworking as much as possible, in accordance with CDC recommendations. Arlington Transportation Partners (ATP) conducted a survey of 84 local employers, representing over 8,000 employees working in Arlington to learn more about the local business community's rapid transition to a remote workforce.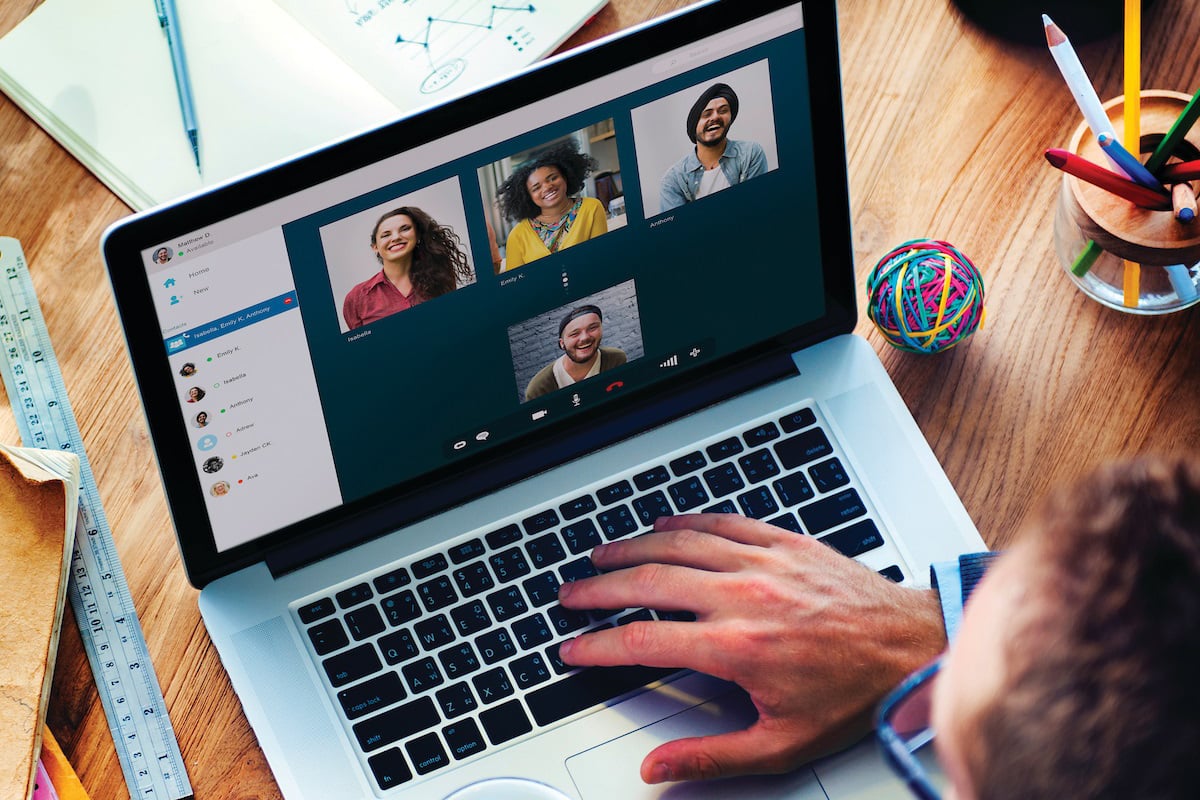 Transitioning to Telework
Prior to the coronavirus pandemic, there were 3.1 million daily commuters in the DC metro region, according to the 2019 State of the Commute Survey. Approximately 1 million (35%) of those employees teleworked an average of 1.2 days per week.
Out of the 84 employers we surveyed, the vast majority (95%) of employers allowed for some form of telework, but just 56% had a formal policy in place before the pandemic.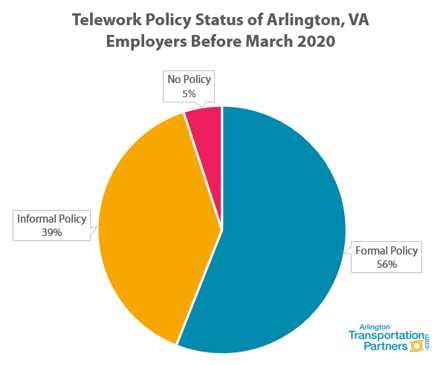 Since March, Arlington employers have rapidly expanded telework to a significant majority of local employees.
Percentage of Local Workforce Teleworking as of March 2020

<50%

6%

50% - 75%

5%

76% - 99%

22%

100%

67%
Survey responses collected between April 12-18, 2020
28% of Arlington employers expect to update or implement a new formal policy in response to COVID-19. The benefit of having a formal policy in place is it allows employers to clearly communicate telework eligibility, expectations, and evaluate telework program performance.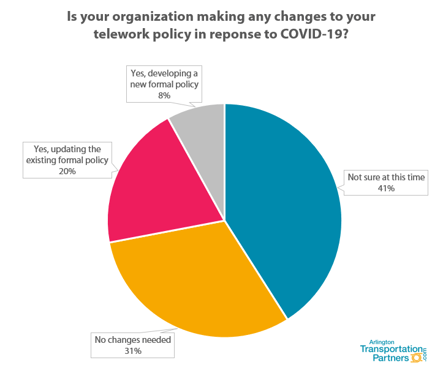 This survey was conducted in mid-April and features a small sample of 84 professional employers, representing 8,000 Arlington employees. Restaurants, retailers, and hotels were not included in this survey.
The Post-Pandemic Commute
As employers develop plans to re-open, business leaders should keep in mind that a safe return to office begins and ends with the commute. Particularly in transit-dependent areas like the DC metro region, providing safe, reliable, and affordable transportation options will be a key part of any safe reopening strategy.
Flexible workplace policies like telework and staggered shifts will be essential for maintaining social distance on transit and managing increased parking demand. A successful flexible workplace policy should be customized to suit the unique needs of your organization.
Flextime (also known as staggered work schedules)
Employees have the option to start their workday earlier or later, while working the same number of hours per day. An employee's daily schedule remains consistent.
Compressed Schedules
Employees can work longer days, completing their 40-hour workweek in a fewer number of days. Two of the most popular variations of this schedule are 9/80 and 4/10.
These alternative schedule options can be combined with telework, staggering work teams, and other commuter incentive programs to manage office and parking occupancy when offices reopen.
Prepare Your Comeback
Arlington Transportation Partners can help prepare your business with complimentary telework policy assistance, flexible workplace policy assistance, and employee surveys. Our new Flexible Workplace Guide covers the different types of flexible work schedules that can be used to avoid peak commuting hours. Determine your business plan for a successful and safe return to work, while encouraging the use of sustainable transportation options.