We hope you are excited for our third annual Our Shared Street Pop-Up event. This family-friendly block party is a fun way to learn about the available transit options in your neighborhood, get to know your neighbors, and discover local businesses.
Our partners play a huge role in making this event a great experience for everyone. They give attendees an opportunity to explore and interact with local businesses. We're excited to showcase our mobility experience station where you can try new mobility options. A special thank you to our sponsors, Dorchester Apartments (E.G. Reinsch Companies), Lime, Meridian at Courthouse Commons (Paradigm), and Oakland Apartments (E.G.Reinsch Companies). Their support makes this event possible. Below is a sneak peek at some of our partners for this year's event.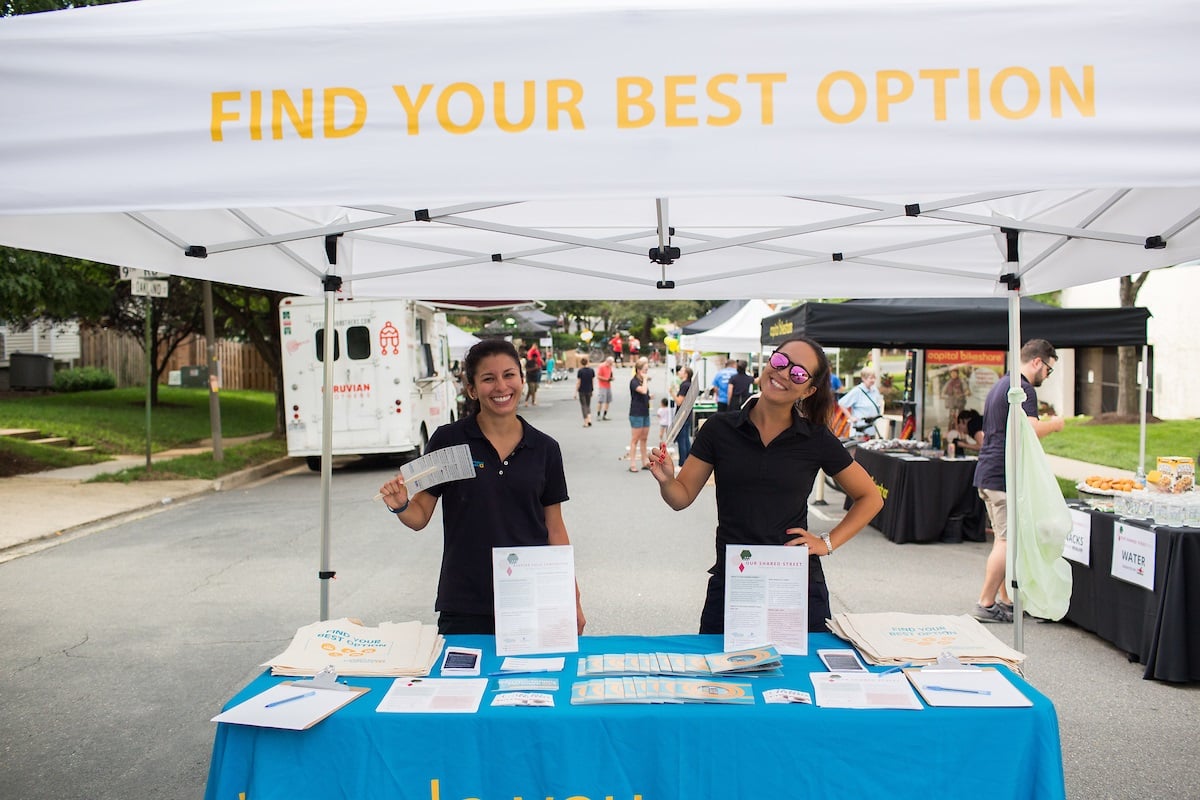 Who to Expect
As new partners join us, we will continue to add more partners and update this blog.
Sign up for your library card before back to school time and learn about all your local library has to offer. Don't forget to ask them about the unique items you can borrow (hint: it's not just books).
Bird is passionate about vibrant communities that have less traffic, cleaner air, and safer streets. They work with cities and countries across the world to provide new transportation options, complement public transit systems, and invest in safety insfrastructure that benefits everyone.
Champions and connects businesses and communities along Columbia Pike. They will be sharing information about upcoming local events on the Pike.
Provides you with a one-stop shopping source for Metro, VRE, and MARC fares. You can purchase a SmarTrip card or an iRide card in time for back-to-school.
A 2 horsepower, all-terrain machine. It creates a smooth riding experience for riders. Try it out at the Mobility Experience Station.
A fixture on Columbia Pike since 1984, Papillon Cycles provides local bikers with a gathering place, the latest in biking equipment, and prompt and expert servicing. They will be offering complimentary bike repairs and will have e-bikes for attendees to try.
Will be there. Need we say more? Everybody loves some Peruvian chicken.
Educates youth, promotes bicycling, and builds communities. They are a great resource for people who bike in Arlington. They will be offering free bike safety checks, and you can learn more about their youth and community programs.
A national program that works to make it safer and easier for students to walk or bike to school. Find out all the good they're doing with Arlington Public Schools.
Spin provides Arlington residents with dockless scooter-share to get you where you need to go. Founded in San Francisco in 2016, Spin operates dockles mobility systems in nearly 50 cities and campuses throughout the United States. With Spin, you're free to move.
Experience Sustainable Transportation
Stop by these partners to learn about different ways you can bike, walk, and ride around Arlington: BikeArlington, Capital Bikeshare, Car-Free Diet, and WalkArlington.
Thank you to our friends at Rocklands and Sugar Shack who will provide attendees with yummy treats. Snacks are on first come, first served basis while supplies last. Come early to grab one!
Sign Up for Our Shared Street
Registration is free and ensures that we have enough giveaways for all our participants, we request you to sign up for the event. See you on August 22, 2019 at 5:00 p.m.
Photo Credit: Reema Desai/ReemaDesai.com for Arlington Transportation Partners