The Washington Metropolitan Area Transit Authority (WMATA) has approved fare increases for all Metrorail and Metrobus trips. The increase will take effect June 25, 2017 and businesses will need to plan ahead to make sure employees are ready for increased costs in July.
Transit benefits amounts for Metrorail and Metrobus are allocated a month in advance, so people affected will need to increase their overall monthly transit allowance by June 15, 2017. If they don't, riders will find they are running out of money on their SmarTrip cards before the end of the month due to the slight increase in fare cost.
Unfortunately, there is no way to add money to June benefits, so Metro riders may be a fare or two short by the end of June.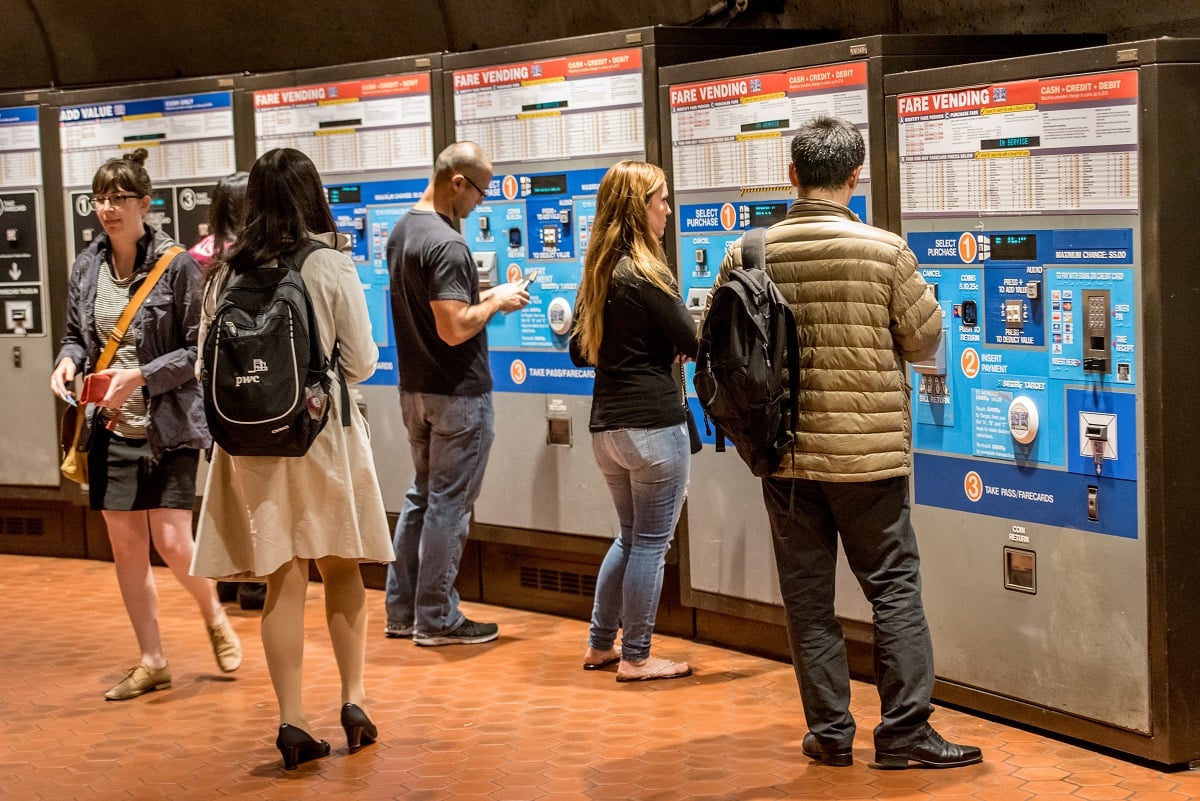 How Much is the Increase?
Metrorail
All Metrorail fares will increase by 10 cents during rush hour and by 25 cents during off-peak periods. The new maximum rush-hour fare possible will be $6.00. Parking fees will all also rise 10 cents.
Metrobus
Metrobus fares will rise 25 cents, bringing the cost up from $1.75 to $2.00.
Express Metrobus fares will increase from $4.00 to $4.25 and the Airport buses (Routes 5A and B30) will increase from $7.00 to $7.50.
Are ART Fares Also Increasing?
Yes—the County Board approved fare increases in Arlington as well. The ART bus adult fare will increase from $1.75 to $2.00 and the ART fare for seniors, students, and people with disabilities from $0.85 to $1.
For additional changes, check out ART's comprehensive blog about new fares effective June 25.
How Much Should My Staff Increase Their Benefits?
Generally, employees will calculate their benefits by multiplying their one-way trip cost by 44 (two trips per day multiplied by roughly 22 working days each month). Parking is only charged once per day, so you would only multiply that by 22. All businesses calculate benefits differently, so make sure to check with your benefits coordinator/human resources department for additional guidance.
Here is a sample guide on how to increase the benefit:
Metrorail increase = $0.10 x 44, increase total monthly benefit by $4.40
Metrobus increase = $0.25 x 44, increase total monthly benefit by $11
Metrorail parking increase = $0.10 x 22, increase total monthly parking benefit by $2.20
Metro to Adjust Service Schedule Times
Metro will be adjusting hours of operation to better serve their maintenance schedule while also extending hours into the early morning on Fridays and Saturdays. Metro will also close 30 minutes earlier on weekdays at 11:30 p.m.
Monday – Thursday: 5:00 a.m. - 11:30 p.m.
Friday: 5:00 a.m. - 1:00 a.m.
Saturday: 7:00 a.m. - 1:00 a.m.
Sunday: 8:00 a.m. - 11:00 p.m.
In addition to time adjustments, Metro will also make the following changes:
Rush hour trains will now leave endpoints every 8 minutes on each line, up from the current 6 minutes.
Yellow Line Rush+ trains are being eliminated, the Yellow Line will now only operate between Huntington and Mt Vernon Square stations.
Blue Line riders will see increased service, with trains now leaving every 12 minutes from endpoints.
What Are Transit Benefits?
Pre-tax transit benefits allow your business to offer transit benefits to employees on a pre-tax basis through their payroll. The pre-tax deduction can mean up to a 38% decrease in overall transit costs for employees. If you want to start offering employees a huge savings on their commute, make sure to reach out to ATP for more information.
We Can Help You Set Up or Review Transit Benefits
With these changes in mind, as well as the warm weather and end of SafeTrack coming our way, it may be a good time to revisit your transit benefit offerings if you haven't thought about them in a while. The experts at ATP can help you determine what your employees will be spending on transit with the increased fares and the type of benefit and amount that will best suit your company's needs.
Where a pre-tax transit benefit lowers an employee's taxable income, which allows both employer and employee to save money, a direct transit benefit can be seen as extra cash for employees, leading to stronger recruitment and retention programs, and saving you over $1000 in compensation offers.
Contact us for more information about transit benefits and download the guide on implementing commuter benefits for your organization.
Photo Credit: Sam Kittner/Kittner.com for Arlington Transportation Partners