Last Wednesday on April 6, ATP hosted National Walking Day at three pit stops in Ballston, Crystal City and Rosslyn. In previous years, we have hosted National Walk at Lunch Day at the end of April; however, this year, we changed the event to align with American Heart Association's annual event. Plus, early April is a great time to kick off all things active transportation, with Earth Day and Bike to Work Day coming up later this spring!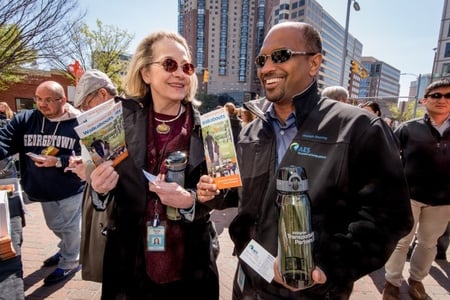 Nearly 1,000 walkers came out during the event, despite the windy day and colder than normal temperatures. A variety of companies organized walking groups among their staff and registered for the event, including PBS, American Trucking Association, Arlington County Government, National Science Foundation and National Association of Chain Drug Stores. Registered walkers who stopped by the pit stop could pick up giveaways, coupons, information from Virginia Hospital Center and promotions from local vendors.
National Walking Day is a fun and easy way for businesses to promote health and wellness among their staff and residents, whether it's walking to work, walking the "long way" from the Metro Station to the office or walking to lunch or errands during the day. Healthier employees take fewer sick days, are more productive and have a higher rate of satisfaction at the office. By encouraging walking, as well as biking and even public transit, businesses can promote an easy and affordable way for employees to get in more steps and exercise during the workday.
Big thank you to our pit stop sponsors of the event: The Nature Conservancy in Ballston, Vornado in Crystal City, and The JBG Companies in Rosslyn.
Also, thanks to our local community partners and vendors that participated in the event:
Acme Pie
Ballston BID
DC Bike Ride (pssst...use code: ATP for $10 off registration)
Potbelly
Taylor Gourmet
TechShop
The View at Liberty Center Apartments
The Westin at Arlington Gateway
Virginia Hospital Center
To view more photos, visit our National Walking Day page.
Photo Credit: Sam Kittner/Kittner.com