Spring weather is officially here and bringing warmer temperatures and sunshine. Spring is also the time to pack away the winter jacket and enjoy the outdoors on two wheels. With stations all over the DC Metro region, Capital Bikeshare is a favorite and affordable way to explore popular Arlington destinations. Whether you are looking to watch a movie, grab dinner with friends, or enjoy mother nature, Capital Bikeshare has you covered.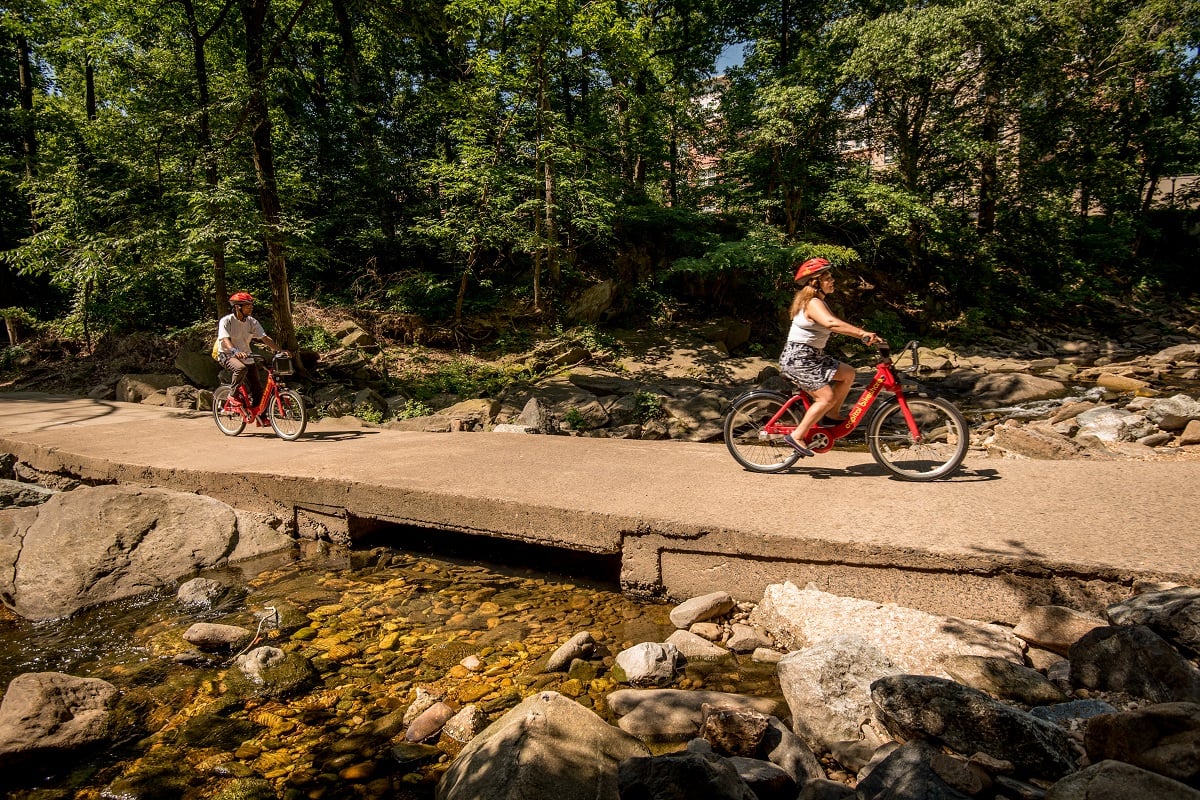 Arlington Cinema & Drafthouse
Dinner and movie or dinner and a comedy show, Arlington Cinema & Drafthouse has both. Sit back and relax while the waiter serves you drinks and food. There are several other non-traiditional food options too on the block to suit the pickiest taste buds.
Closest Capital Bikeshare station location: Columbia Pike & South Walter Reed Drive
Bon Air Rose Garden
Located slightly over a mile from the Ballston Metro Station is the beautiful Bon Air Rose Garden. The park features beautiful roses and offers a large playground with picnic areas, basketball courts, and tennis courts. Bonus tip, when the walk around the garden leaves you hungry, walk to Pupatella and enjoy some wood-fired pizza.
Closest Capital Bikeshare station: North Illinois Street & Wilson Boulevard (between Bon Air Rose Garden and Pupatella)
Westover
The famous Westover Beer Garden, The Italian Store, library, and farmers market—Westover has it all. Bonus tip, The Westover Farmers Market is open every Sunday throughout the year and offers a variety of fresh produce and great breakfast options.
Closest Capital Bikeshare station: Westover Library/Washington Boulevard & North McKinley Road
Gravelly Point
Gravelly Point is a perfect picnic spot with a panoramic view of the monuments and airplanes. A short ride from Rosslyn or Crystal City, this spot is a great place to take a break and unwind, or take a long ride and continue to enjoy the views on the Mount Vernon Trail.
Closest Capital Bikeshare station: Gravelly Point on Mount Vernon Trail
Ride Capital Bikeshare
Capital Bikeshare offers a variety of membership options, including a $2.00 single trip, $8.00 daily pass (24 hour) and $85.00 annual membership. All rides under 30 minutes are included in the price.
In addition, Arlington residents can receive a 50% discount on new annual memberships. Now that's an offer you can't pass, contact us so you can start your ride.
Photo Credit: Sam Kittner/Kittner.com for Arlington Transportation Partners