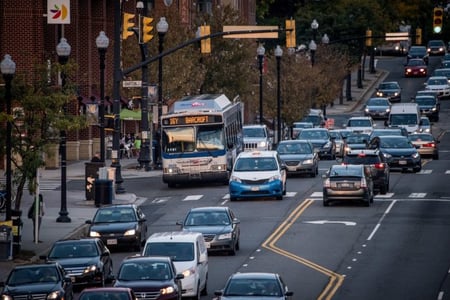 Did you know that Friday, September 16 is PARK(ing) Day? This is an international event celebrated annually that transforms street parking spots into temporary public spaces. So much land in our communities is dedicated to motor vehicles, including roads, driveways, parking spaces and garages, whereas open space, parks and community gathering areas are often lacking, especially in urban areas. PARK(ing) Day was created to provide visual examples of how spaces currently designated for cars could look if they were instead designed for people.
In past years, various groups and businesses throughout the world have created some amazing pop up parks and community spaces that have been transformed from a basic street parking space on PARK(ing) Day. These have included a simple park with benches, space for yoga classes, mini gardens, an area to play board games, plus countless other ideas.
This year, Arlington County is giving anyone, including businesses, local organizations and individuals, the opportunity to create and host their own pop up park on PARK(ing) Day. This is a great way to promote not only your business or property, but also showcase your commitment to sustainability and enhancing the local community through tactical urbanism. Have a great park idea or the perfect location in mind? Submit an application for a PARK(ing) Day permit!
To apply for a permit, follow Arlington County's application instructions here. If approved, the permit includes nominal fees and some general guidelines for what you can include in your park.
Participating Champions could also earn credit for hosting a PARK(ing) Day space – let ATP know if you are interested and we can work with you on creating a successful pop up park.
We're looking forward to celebrating on September 16 and we hope you will join us in this great community event!
Photo Credit: Sam Kittner/Kittner.com