Located at 2511 Jefferson Davis Highway, the 12-story, 185,000 square foot Presidential Tower is managed by Cushman & Wakefield. The property has taken several non-mandated steps to improve their tenant's transportation and commute experiences. Presidential Tower is enhancing its identity as an Arlington Transportation Partners (ATP) Champion through a complete renovation of the two-story main lobby, entryway and common areas as well as more of a robust state-of-the-art tenant amenity center.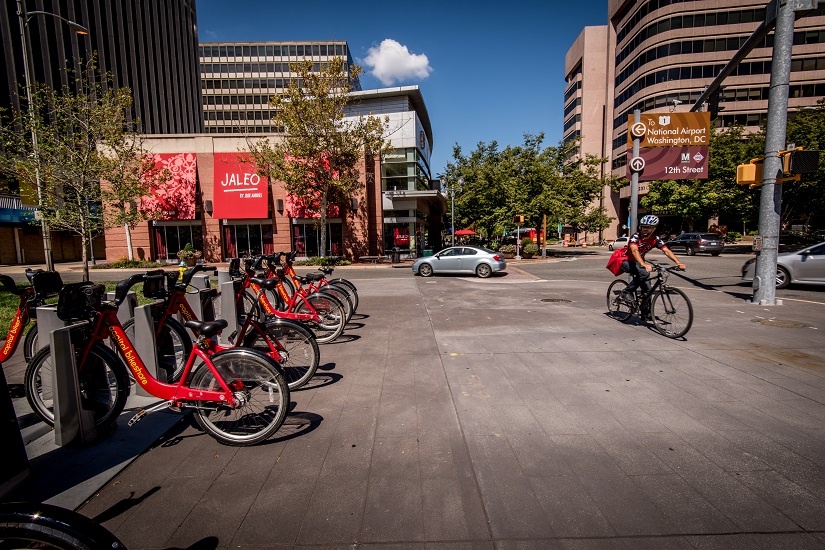 Increasing Tenant's Return on Value (ROV)
Over the past year, Presidential Tower has gone beyond the mandated requirements and implemented amenities and programs that encourage sustainable transportation options among building occupants. Located in a highly accessible area, management sees the value in understanding how employees commute to work and improving their travel choices. Below are some just a few of those offerings:
TransitScreen
TransitScreen displays real-time schedules of nearby transportation options in their lobby that ATP was able to recommend through in-person consultations. TransitScreen allows tenants to stay up to date on Metrorail times as well Metrobus departure and arrival times to better plan their commute.
Class I bike parking
Management installed secure indoor bike parking that provides tenants a peace of mind during the work day.
EV charging station
Electric recharging points in the garage allows tenants who drive eco-friendly vehicles more incentive to use their preferred mode of transportation and continue being eco-friendly.
Showers and locker facilities
Located in the tenant-only fitness center, Presidential Tower wants all tenants to have the option to store items or freshen up, and pursue their active and healthy lifestyles.
Carpool/vanpool parking
Presidential Towers provides discounted parking rates for carpools and free vanpool parking for tenants. This allows commuters to take advantage of transit benefits and enjoy a faster and less stressful commute.
Stay tuned for open enrollment for Champions 2018 and see how you can improve the commuting experience of your tenants.
Relocation Assistance for New Tenants
Since implementing these amenities, management at Presidential Tower is excited to announce the welcoming of three new tenants in the first quarter of 2018. At ATP, we understand how important it is to provide new tenants with the best services to make their relocation process be as smooth as possible. We can help assist your incoming tenants with a wide range of relocation services and inform them of the transportation options available.
Surveying new tenants
Start the process to learn about your tenants' transportation habits a few months prior to their move, and where the commuters live in relation to the new office.
Customized materials
Based on the responses gathered from the surveys, ATP will put together customized materials with information on transit options and various commute planning tools.
Employee events
ATP can host or attend tenant events prior to and after the move to answer any additional transportation or benefits questions and provide more information.
Is your company thinking about moving in or to Arlington? Contact ATP today to start your relocation process and download the Relocation Services Guide below.
Photo Credit: Sam Kittner/Kittner.com for Arlington Transportation Partners