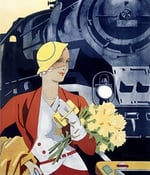 It's almost Memorial Day weekend, the unofficial start to summer, and this year, as with many others, has travelers packing their cars to head off on a long weekend getaway. The Washington Post reported that 875,000 Washington area residents are planning to hit the road, adding to the approximately 35 million Americans who will be on the road May 26-28.
If those numbers are enough to make you pause as you put your key in the car door, fear not - a public transportation vacation is an easy, inexpensive alternative. There are plenty of trips that are all within a day's train ride away, and ways to get around without a car once you get there. Don't think of it as a staycation, think of it as an adventure – instead of sitting in bumper-to-bumper traffic getting to the beach, you will be navigating the streets of Philadelphia or Richmond armed with nothing but iPhone apps and your wits.
Getting there:
Trains – Amtrak, VRE, and MARC are excellent options.

Express buses – Bolt Bus, Megabus, Washington Deluxe, and others. Bolt Bus is about $18 one way to New York, compared to a minimum of $50 one way for Amtrak's Regional service. A new bus service runs to Delaware beaches.
Greyhound – for the destinations not served by the express buses, which are generally limited to the Northeast Corridor.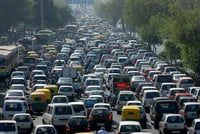 There:
Google your destination before you leave to get information on the public transportation system.
Publictransportation.org is a great resource – pick by state, then city, then find links to all the area transit systems.
Spotcycle.com is the bikesharing app that covers Washington, DC/Arlington, Boston, and Minneapolis, as well as international destinations.
HopStop will give you directions for any mode of transportation in many cities.
Use a paper map as backup. Spotty wifi, underground metro systems without wifi, low batteries, and squinting into a small screen are all good reasons to have a non-electronic backup system.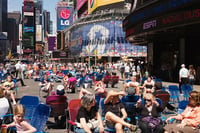 Keep in mind:
Don't be afraid to ask locals! Most people are not rude, just in a hurry, and they will stop and help as best they can. Just don't get offended if they don't linger; they have places to be.
Carry snacks and Wet Ones, and having a compass is not a bad idea either – you can always orient yourself to the map. This is especially helpful when you come out of the subway onto an unknown street and aren't sure which direction you need to walk.
Be observant – look for people doing the same thing, like lining up for a bus, standing in the same area on subway platforms, and so on.

Above all, be prepared to have something go wrong. This will help you stay calm when it does, which means you will be able to correct the situation more rapidly, and without the anger, anxiety, and stress that comes with getting lost. Laugh it off – when you get home, that will be the story you will want to share!