National Walking Day has been rescheduled for April 25, due to weather. Join us at the same time and the same place on April 25 for fun and festivities.
A short walk a day keeps the doctor at bay. We all know the benefits of walking and often find it challenging to fit a short walk in our busy schedules. Join Arlington Transportation Partners (ATP) on Wednesday, April 25, 2018 for National Walking Day and together let's make a start to a healthier life.
National Walking Day Is for Everyone
Slow walkers, moderate walkers, brisk walkers—National Walking Day is for everyone. Form a walking group with coworkers, friends or neighbors and register with us. Stop by the nearest pit stop between 11:30 a.m. and 1:30 p.m., partake in the festivities planned, and pick up fun giveaways from the ATP table and other participating local vendors.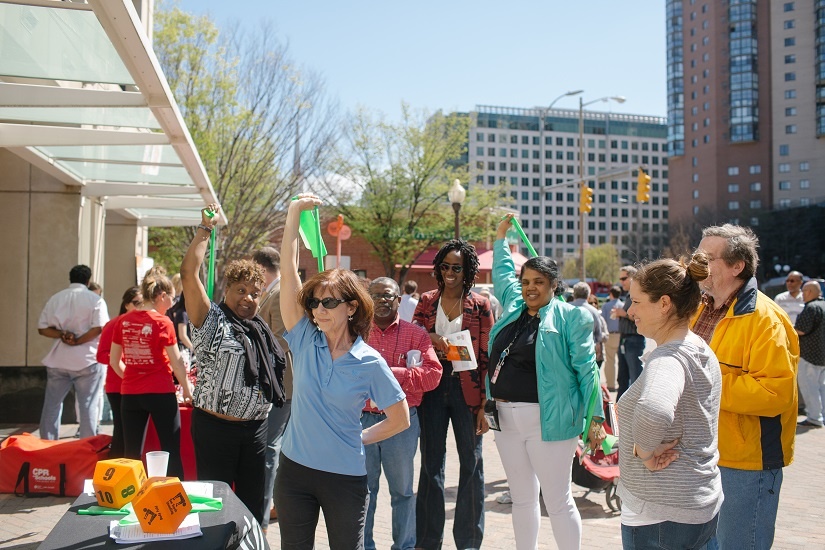 What's happening this year?
Our friends from Virginia Hospital Center will be at all four pit stops demonstrating desk exercises to keep you active throughout the day. Everybody's favorite sweetgreen will be sharing giveaways at Ballston, Crystal City, and Rosslyn. Plus, many more partners and vendors will be on site at each pit stop to welcome and greet walkers.
Why walk?
A walking meeting or a short walk during the day is a great way to boost creativity, lower stress, and curb sugar cravings. As a Gold Level Walk Friendly Community, Arlington has a lot to offer on foot. Walkabouts are a great resource to explore different neighborhoods at your convenience. You might even find a route to explore on the big day.
Bonus for our clients – Participation in National Walking Day also helps your business or property earn Silver Level Champions credit.
Pit Stop Locations
Ballston: The Nature Conservancy Building
4245 N Fairfax Drive, Arlington, VA 22203
Thank you to our host partner, The Nature Conservancy.
Crystal City: Crystal City Water Park
1601 Crystal Drive, Arlington, VA 22202
Columbia Pike: Penrose Square
2597 Columbia Pike, Arlington, VA22204
Thank you to our host partner, WalkArlington.
Rosslyn: Central Place
1800 N Lynn Street, Arlington, VA 22209
As Easy as 1, 2, 3
Here are three easy steps to help your business or property prepare for National Walking Day.
1. Download the flyer
Print flyers to share with colleagues or post near the coffee machine.
2. Form a walking group
Ask your coworkers and friends to take a walk with you on Wednesday, April 4. Plan your route to a nearby pit stop so you can pick up fun giveaways. We highly encourage you to take pictures during the walk and tweet using #NationalWalkingDay.
3. Register
When you let us know which pit stop is most convenient for you, we can better plan the event. Register for your whole group all at once. Just click below to let us know your name, company name, and how many walkers you'll have with you!
Photo Credit: Reema Desai/ReemaDesai.com for Arlington Transportation Partners