While it's not always smooth sailing on Metro these days, two projects were recently announced that hope to make trips easier for riders and to accommodate the demand for future growth in the system.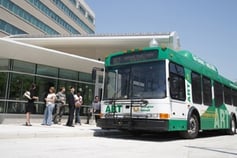 The smaller plan of the two involves the installation of 70 real-time arrival screens at bus stops throughout the Metrobus system, which will give riders information about where their bus is and how long before it arrives at the stop. The screens, which will be equipped with audio, will also feature alerts about service disruptions and delays to keep riders informed while they wait. Similar screens are currently in place at two major bus stations in the county, Shirlington and Crystal City, which display real-time info for both Metrobus and ART
buses.
While these screens can be a helpful visual for riders, it's important, as with other Metro rider tools, that the information displayed is accurate and maintained. This issue, which was addressed at last week's Transportation Camp, is discussed in a recent Mobility Lab video that talks about the impact that unreliable real-time data can have on ridership, and the need for better information from transit agencies. Check out the video on their blog here.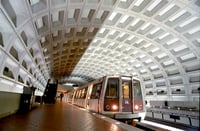 The second initiative is Metro's strategic plan, which proposes enormous infrastructure improvements and upgrades over the next thirty years to keep pace with the region's growth and address the long-term capacity needs of the system. The recently announced $26 billion plan, which has yet to be approved, calls for two new rail tunnels, electrical improvements, new buses and bus lanes, and Metro station upgrades, among several other projects. While Metro's managers insist that these upgrades are critical to the current and future needs of the system, the lack of a dedicated funding source will have a major impact on the financial viability of these projects.
What are your thoughts on these improvement plans? The strategic plan proposals are obviously several years away, however, the transit screens are likely to be installed this spring. Do you think these initiatives will improve your commute? Let us know what you think!