In January, I wrote a blog about biking to work in the freezing cold – giving a recap of my outfit, commute route and all the great reasons why I do it.
This time around, I'm blogging about running to work, which I typically do about once or twice a week, year round. I run the same route as biking, so it's about 3.5 miles, which is about the maximum distance I'd want to run with a backpack (more on that later). However, running is way more of a challenge than biking – it requires more preparation, takes about ten minutes longer and can be utterly exhausting. Despite all these elements, being able to get a good workout in during my commute far outweighs any of the disadvantages. I'm able to save time during the day and money (SoulCycle classes ain't cheap…) by incorporating exercise into my commute.
Like the bike blog, I've written a short overview about running to work – keep in mind I'm not a marathon runner or crazy fitness enthusiast – just your average daily commuter trying to stay in shape and get to work on time. Let me know what you think!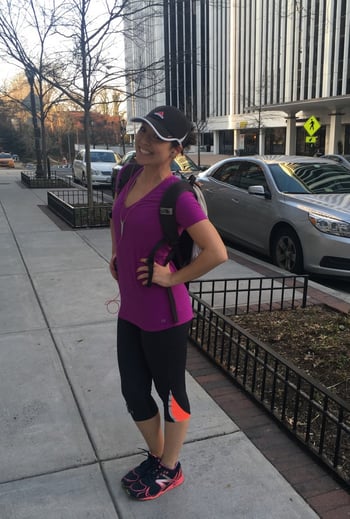 The Outfit
I'm probably a little more prepared gear-wise for running to work than biking, since most of my workout stuff is designed for both cold and warm weather running. If it were colder out, I would probably wear a long sleeve shirt with a running vest, plus an ear band – but I'm loving being able to wear a t-shirt and no gloves this week!
What I'm wearing:
Running hat: I really only wear this to keep sweat out of my eyes and it keeps my hair in place – if someone can find me a hairtie that makes my hair stay in a bun the entire workout, you win.
Running t-shirt
Lightweight zip up jacket (not pictured): I didn't need this on the way home in the afternoon, but it's still around 45 degrees in the morning!
Cropped running leggings
Socks
Running shoes
The Backpack
People are always curious how I pack my stuff when I run to work, and this is probably one of the biggest barriers keeping people from trying it out. For me, it's all about choosing an outfit that isn't bulky (i.e. no blazers or thick sweaters), won't wrinkle and can be worn with shoes that I keep at work (I've accumulated about 6-7 pairs at my desk, hidden in a drawer).
I also either don't bring lunch that day or I pack something small, like the sad Trader Joe's frozen burritos that I bring when I'm too lazy to actually make anything else.
Other than that, I have my makeup, my wallet and my keys. This all goes into a small backpack that I've had since college and has seen better days. However, it has a strap in the front that keeps the backpack from bouncing around and driving me insane – let's just say I would not be running to work without this strap.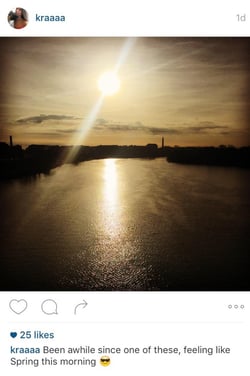 The Commute – U Street to Rosslyn
7:10am – Leave my apartment early since running is going to take longer.
7:10-7:25am – In the zoneeeee…jk totally forgot I'm supposed to be writing a blog about this run until now. Also hence why there are no pre-run mirror selfies with my pup, sorry guys.
7:32am – I make it to Georgetown where I get a much needed 45-second break at the light at Wisconsin and N, my legs are feeling pretty dead after the uphill trek.
7:35am – Touch the Sky by Big Gigantic comes on my music playlist. I mean, I'm basically Usain Bolt running a sub-4 minute mile when this song is playing.
7:38am – Made it to Key Bridge. No wind = very happy Keara. I stop halfway to snap a pic since the Potomac is looking niceeee this morning. Insta-worthy for sure.
7:42am – Rosslyn is insanely hilly – basically hating life by the time I get here.
7:44am – Made it to work! Sorry to the eight other people I squeezed into the elevator with – pretty sure the Defense Department folks in my building are horrified by my sweaty self.
Running to work isn't easy but it's a great way to get exercise for your commute! A little preparation and giving myself enough time to get to work are important elements to a successful run – for those who live close enough to work (and have access to showers), try it out as the weather gets warmer and let us know how it goes!