The next SafeTrack surge to hit Arlington will start July 5 at 8PM (ending July 11) and will affect many commuters. While we all get one day's grace on the Tuesday after the July 4th holiday, Wednesday could get nasty if you're not ready for the line segment shutdown between Braddock Road and National Airport.
In a nutshell, there will be NO service on Yellow and Blue Lines between these two stations and passengers are encouraged to avoid rush hour. You can and should expect significant delays, as you'll need to use Metroway or shuttle bus service to travel between stations.
Services Available
Blue Line trains will run every 12-15 minutes
Yellow Line trains will run every 12 minutes
Blue/Yellow customers are encouraged to consider alternate travel options and avoid traveling during rush hour if possible; expect significant crowding on Blue & Yellow line trains
Free shuttle bus service between Braddock Road and National Airport
Free shuttle buses will operate via Metroway between Braddock Road, Crystal City and Pentagon City
There will be NO Yellow Rush+ service
For passengers terminating their trip at National Airport, definitely use the National Airport free shuttle that will run every 15 minutes. However, we'd like to suggest a few other alternatives for commuters continuing to Arlington and beyond. Buses are your friend.
Metroway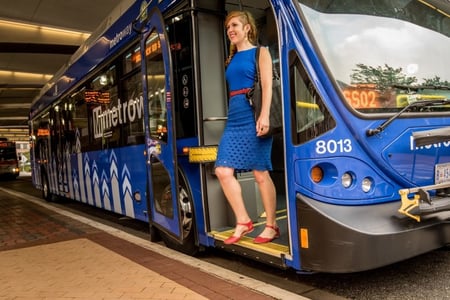 The Metroway runs between Braddock Road > Potomac Yards > Crystal City > Pentagon City. Instead of dealing with the added stress of airport traffic, bypass the entire scene and ride Metroway all the way to Crystal City or Pentagon City. Full route here and yes, you can use your SmarTrip card to pay for your fare.
From there – we suggest connecting to another bus, if possible, that will take you to your final destination. Remember the trusty ART 43 takes you to Rosslyn from Crystal City, so avoid those Blue Line blues and platform congestion.
Metrobus
Several Metrobus options could work for your commute depending on your origin and destination. If anything, the bus may be less crowded and help you get further down the Metro line before you need to hit the platform again.
Metrobus 10A (Huntington > Pentagon): Service will be doubled to every 15 minutes during rush hour. Route details here.
Metrobus 10E (Hunting Point > Pentagon > Rosslyn): Running through Arlandria and continuing to Rosslyn with stops along the Blue/Yellow Lines. Route details here.
Metrobus 11Y (Mount Vernon > Alexandria > Farragut Square > Potomac Park): Viable option for those needing to travel into DC. Route details here.
DASH Bus
Like ART buses serve Arlington, DASH buses service Alexandria. During Surge 3, both DASH AT3 and AT4 will run extended service from Old Town Alexandria to Pentagon.
These two routes are offering FREE service with a direct connection between Braddock and Pentagon Metro Stations, operating every 20 minutes. Route details here.
Fairfax Connector
For commuters coming from Franconia-Springfield, skip the transfer and ride the Fairfax Connector from Franconia-Springfield Metro Station straight to the Pentagon for only $4! Fairfax Connector and Metrobus will be combined to offer supplemental express service.
Additional route information is also available, if you're traveling from Fairfax County to Arlington.
Mt. Vernon Trail
If the bus isn't calling your name, hop on those two wheels and enjoy a scenic ride on the Mt. Vernon Trail. Bypass all the traffic and congestion, while getting in a great morning workout. Mt. Vernon Trail can quickly and safely take you from Alexandria to Crystal City. You can opt to continue your biking journey, or put your bike on a bus to finish your commute.
If you need help planning your route or are interested in a custom bike train – let us know. We have friends in high places. High places = BikeArlington
Vanpool Connect
Ridesharing via vanpools is a great option during Surge 3 and throughout the entire SafeTrack program. Vanpools are eligible for the transit benefit, up to $255/month, as defined by the IRS. If you're interested in learning more or joining a vanpool, click here.
More Information
Now available: SafeTrack Frequently Asked Questions for both commuters and Arlington businesses. Plus, a map to highlight impacted areas for surge 3.
Photo Credit: Sam Kittner/Kittner.com