Did you know that you or your employees can save up to 37% on your daily commute if you are participating in a pre-tax transit benefit program? Pre-tax transit benefits can be offered by your employer and allow you to allocate funds for commuting on a pre-tax basis. The funds can be used for essentially all forms of alternative transportation including but not limited to Metro, local and regional buses, trains such as MARC and VRE and even vanpools! Employers can even save money on payroll taxes by offering the benefit to employees.
37% may not seem like much, but what does that mean in terms of hard cash? If you are spending $260 per month on Metro and not enrolled in a pre-tax transit benefit program, you are missing out on $1,144 per year (yes, really, that is not a typo) which equates to almost $100 per month. Check out this fancy infographic that shows all of the savings that you might be missing out on.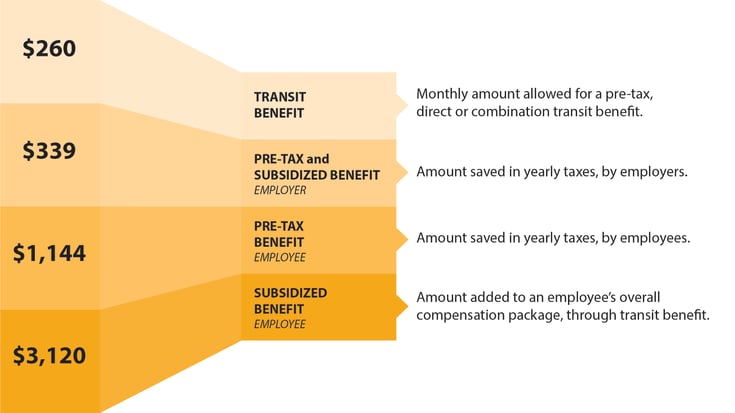 The good news? ATP can help you and your company by assisting with the implementation of a pre-tax transit benefit program. The most common method for setting up the benefit is to make a SmartBenefits account through WMATA. SmartBenefits is 100% free to set up and use!
ATP has helped set up pre-tax transit benefits all over Arlington County and can assist you wherever needed. WMATA holds regular training sessions for those new to the SmartBenefits program and ATP can assist along the way.
Why don't we delve into some super serious, no jokes allowed suggestions of what you can afford with savings from the pre-tax transit benefits?
I spend $260 per month on transit!
In that case, a pre-tax transit benefit saves you more than $1,000 per year on your commuting costs. Let's be honest, that's a lot of money. What do we recommend buying?
A top-of-the-line hoverboard so you can complete your trip to the bus stop in flashy style and be the envy of your neighborhood
A new Macbook Air that has ArlingtonTransportationPartners.com set as its homepage so you can continue to read fantastic transportation news and advice
A round trip ticket to Paris for a single day so you can take a selfie in front of the Eiffel Tower and convince your friends you went on a full European vacation worth envying
13 years' worth of annual Capital Bikeshare memberships, #CaBi4Lyfe
143 Capital Bikeshare day memberships for you and 142 friends, #CaBi4Friends
40 individual classes at SoulCycle so you can inhale intention and exhale expectation
But, I only spend $125 a month! Are the savings still that beneficial?
At $125 per month on transit you are floating in the realm of what every major car insurance company swears they'll save you by switching, a little over $500 annually. But, you don't need insurance now that you're using alternative transit to travel to and from work every day – so let's focus on what you could purchase with the $500 savings from your pre-tax benefits.
A slightly less dependable hoverboard so you can complete your trip to the bus stop in mediocrity
A brand new iPhone to surf the web and listen to music now that you won't be driving your car
A round trip ticket to California to try out their Metro system. Btw, totes send us a blog post outlining your experience there
I only ride the bus and spend roughly $60-70 per month, what about me?
Even people taking the bus daily still save roughly $25 per month/$300 per year on their transit costs. We highly recommend cautiously suggest a few options for what you could spend your extra $300 on:
A discount hoverboard that will quite possibly catch fire on your way to the bus stop
A monthly subscription to Netflix and Hulu so you can watch both on two separate TVs at the same time. How else are you going to catch up on both House of Cards and the Mindy Project?
A one-way flight to somewhere in Canada if your preferred presidential candidate doesn't win
Nearly 100 boxes of Little Debbie cosmic brownies
Lots and lots of mittens for your kittens
Contact your ATP rep or solutions@transpartners.com for more information and download our full guide on implementing commuter benefits at your organization.