Arlington Public Schools (APS) has embraced Arlington Transportation Partners' (ATP) Champions and are making great strides in sustainable transportation by walking, biking, carpooling, and being more transit friendly. In total, 15 schools and sites have signed up as Champions, including the Employee Assistance Program, Facilities & Operations and the Syphax Building.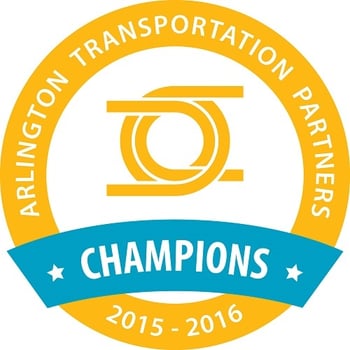 Elementary Schools:
Abingdon
Ashlawn
Drew
Discovery
Glebe
Nottingham
Oakridge
Middle Schools:
High Schools:
Arlington Mill
H-B Woodlawn
Yorktown
Sites:
Employee Assistance Program
Facilities & Operations
Syphax
To join, each school initially achieved Bronze Level requirements, including distributing transportation information for each location to staff/students and posting information about Guaranteed Ride Home for staff. All Schools Champions are currently Bronze Level, except Glebe Elementary, which enrolled at the Silver Level. Discovery is close to becoming a Gold, but will Glebe beat them? Or will there be another school to overtake both and achieve Gold first?!
The activities each school and site has undertaken since the initial enrollment has differed, based on school priorities, location and scheduling.
Discovery is focused on creating walking school buses, bike clubs and carpools.
Swanson Middle School is adopting a nearby Arlington Transit bus stop to help educate its students about public transportation options, and is looking forward to transit training in the spring.
Nottingham's Planet Partners already discuss the importance and impact of removing cars off the roads, and celebrate walking and biking every day.
Arlington Mill has encouraged its older students to use Capital Bikeshare (members must be 16+ to join).
Yorktown High School recently held transit training for HILT students.
Staff at the Employee Assistance Program was inspired by Walk and Bike to School Day to start biking to work more often.
This is a small example of how each Champion is increasing awareness of transportation demand management (TDM) amongst its community, and the school district as a whole. According to the APS GO! Initiative, APS is acting as a leader in the country by taking a division-wide approach to TDM. For APS and ATP, working together to promote transportation is a natural partnership, and one in which we take pride.
For more information on Champions and how to improve mobility, reduce congestion and improve the environment near your school or site, contact me at elizabeth.denton@transpartners.com.