The League of American Bicyclists recently recognized Discovery Elementary School and Yorktown High School as Silver and Bronze Level Bicycle Friendly Businesses respectively. These schools join Ashlawn Elementary School and Oakridge Elementary School as the four Arlington Public Schools sites recognized as Bicycle Friendly Businesses. National recognition is only one result of being involved in Arlington Transportation Partners' (ATP) Champions program.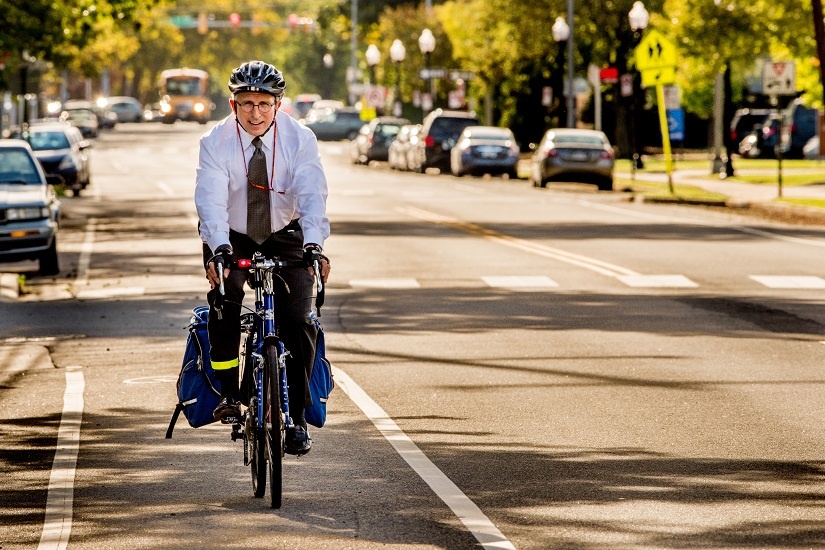 Discover Transportation Rewards
What sort of rewards could your school receive? From improved employee engagement to Bicycle Friendly Business designation, there are options for everyone.
Focus on staff engagement
Staff at schools involved with ATP's Champions program are more likely to shake up their routine commutes by walking, biking, carpooling, or even ride transit. In the process, they find that they are happier, a bit healthier, and making connections with colleagues they might not engage with during the work day.
The Yorktown staff bike club agrees that the time they spend together on their bikes allows them to get to know staff in other departments. During their carpool commute, teachers at Barrett Elementary School discuss lesson plans.
These interactions make them feel more connected and helps your school retain valuable staff.
Improve your community
Participating in Champions provides schools with a platform to talk about the greater community. Reducing the number of single-occupant vehicles around a school means safer streets and cleaner air.
The students at Patrick Henry Elementary School challenged the staff to walk and bike more often after learning about the environmental impact of pollution on the Chesapeake Bay. Less air pollution means a lower rate of asthma in kids, cleaner air for residents around schools and throughout Arlington, and our greener public spaces.
Gain recognition
Champions is designed to reward participants and recognize them as advocates for sustainable transportation.
Over the years, Champions have been recognized in the Washington Business Journal, Virginia Journal of Education, and Arlington Magazine. And this is in additional to all of the recognition that ATP provides through our channels!
Nationally, ATP promotes Champions at different conferences, while the League of American Bicyclists presents its awards to participants ever year as well. We want everyone to know about the great work you are doing and are constantly looking for new ways to share your achievements.
Let Champions Help You
Through Champions, you can find the activities and rewards that work best for your school. For the 2018-2019 school year, we have once again modified actions and requirements at each level of recognition. The easiest way for you to find out what is new for this year is to make an appointment to enroll or re-enroll and begin your school's Champions journey.
Photo Credit: Sam Kittner/Kittner.com for Arlington Transportation Partners