Here's what's new at WMATA:
SmarTrip Card Price Change
To continue the transition away from paper farecards, starting October 1, Metro is lowering the price of SmarTrip cards from $5 to $2,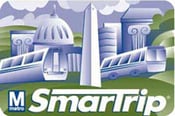 and will be available for purchase at SmarTrip vending machines and Metro commuter stores. This new price goes into effect at the same time as the new exit fare policy on Metrorail – passengers must have at least $1.50 on their cards to exit through the faregates and will not be allowed to exit with a negative balance. Metro is encouraging riders to sign up for the Auto Reload feature to ensure that your card will always have enough funds to exit.
Even if you don't ride Metrorail or Metrobus that often, consider buying a SmarTrip card (with preloaded fare money); you never know when you may need it, and it would be beneficial in the event of an emergency!
Silver Line Travel Times
The Silver Line is getting even closer to completion! With construction almost done, the new line is projected to open in January and Metro has been providing more information to riders to keep them informed. Metro's blog, PlanItMetro, recently posted information about estimated travel times between the new stations to give potential riders an idea about how long trips will take. The post also features a widget to determine how long it will take to get between any two stations in the system, including the five new Silver Line stops. For commuters heading into Arlington or DC from the Reston/Tysons area or vice versa, this is a great way to see how long your trip to and from work might take on Metrorail!
For employers and property managers, we hope that you'll share this information with your employees and tenants as you continue to promote alternative transportation options! If you would like any more information on these new changes, feel free to contact ATP anytime.