Who is excited for National Walking Day? Everybody! National Walking Day is a great way to promote health and wellness in your organizations and to encourage physical activity amongst employees, neighbors, and friends. In our effort to make National Walking Day festivities fun, we partner with local businesses and retailers that are within walking distance at each pit stop. The partnership gives participants an opportunity to explore and interact with nearby businesses. It also means more giveaways!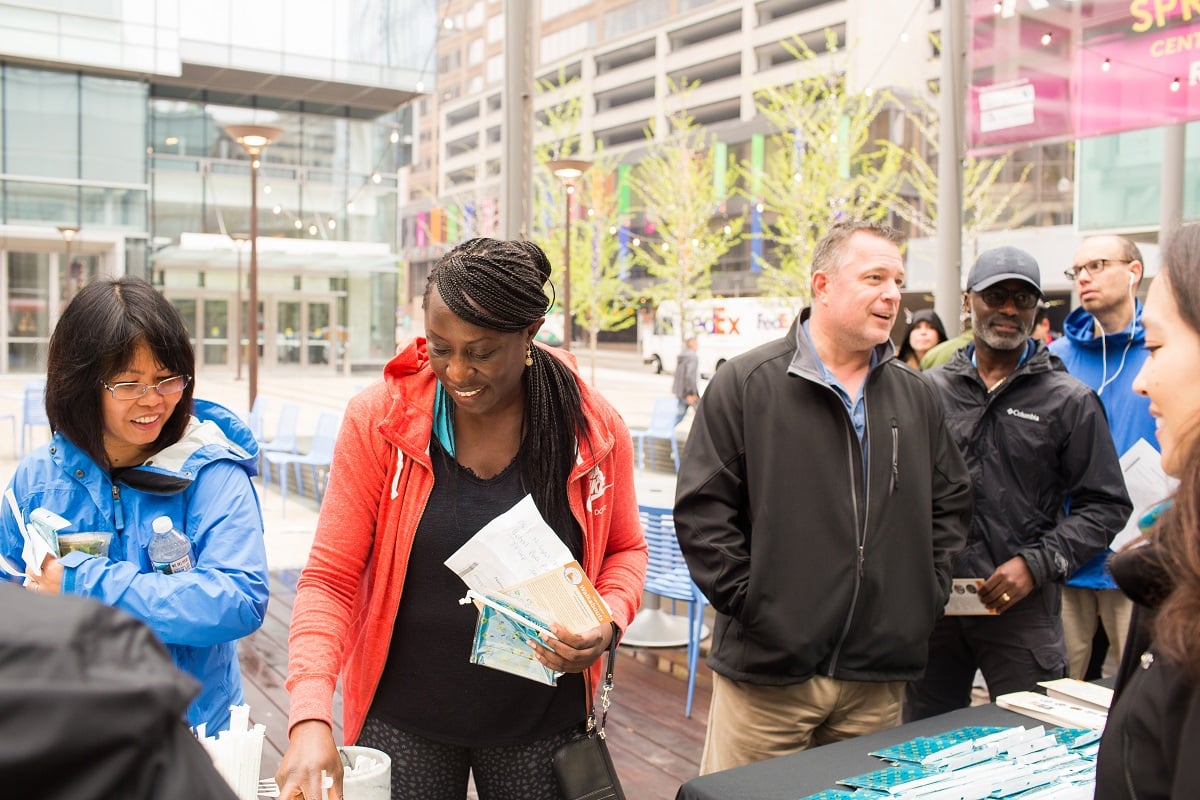 Event Partners
As new partners join us, we will continue to add more partners and update this blog.
Learn more about preventing tick and mosquito bites, and how to properly wash your hands, with an interactive tabletop wheel.
Stop by to learn about the Core of Rosslyn Transportation study that includes improving safety and accessibility for all users, walking, biking , driving, and transit.
Learn about upcoming events like Ballston Quarterfest, farmers markets, and more from our friends at the Ballston BID. They have fun giveaways too for participants while supplies last.
Stop by the Ballston Quarter table to learn about upcoming retail and restaurant openings. They will be giving away water bottles and reusable shopping bags to participants while supplies last.
Return to work stress-free after finding your center with CorePower. Bring a business card and stop by their table for a chance to win one month of free yoga.
E 60 offers group training exercises that are designed like personal training sessions. Strength training, cardio training, athletic training, they got it all.
EvoleAll (Columbia Pike pit stop)
EvolveAll will showcase their fitness offerings, such as Brazilian jiu-jitsu, Mixed Martial Arts, children's martial arts, and yoga.
Welcome Good Sweat spin studio to the neighborhood before they open this year. Try out a bike, spin for giveaways, and enter to receive a pack of classes.
I scream, you scream, we all love ice cream. Stop by the table and try a sampling of their creative flavors.
An armed forces bank serving the Navy, Army, Marine Corps, Air Force, Coast Guard, veterans, DOD, and their families.

Stay fit and stay well. Optimal Physical Therapy offers a variety of services to keep you going strong. Learn about their offerings and pick up some fun goodies.
Stop by their pad-holding station, a PMMA staff member will hold pads for participants to punch/kick. They will also have prepacked bars and coupons for participants.
A family-owned, locally based running specialty store, relocated in the newly opened Ballston Quarter, offers a variety of services from training programs and gear for all levels of runners.
Pure Barre (Crystal City pit stop)
Get on pointe with Pure Barre and learn about their ballet-inspired fitness classes.
Scheduled to open soon at the new Ballston Quarter, stop by for a free tasting and a coupon to receive a discount on your next smoothie or bowl.
Stop by for a free demo for Zumba and Bootcamp:
11:15-11:30 a.m.—Bootcamp
11:30-11:45 a.m.—Zumba
12:00-12:15 p.m.—Zumba
12:30-12:45 p.m.—Bootcamp
Help yourself to tasty treats from The Little Beet, with local ingredients and flavor that is good for you.
Vida is coming to Ballston at the end of 2019. Stop by to learn about membership options.
A great breakfast and lunch option in Rosslyn. Stop by their table for a free tasting and a coupon to receive a discount on your next order.
Virginia Hospital Center provides exceptional medical services to the Washington, DC metropolitan area. Stop by their table to learn some fun fitness tips and desk exercises.
Our friends at WalkArlington are sponsoring our Columbia Pike pit stop and will be sharing information about what makes a 20-minute neighborhood, plus other ways to explore the Pike. WalkArlington will also host an even social walk as part of the day's festivities. Register for the evening walk on Eventbrite.
Register You or Your Team
To help us plan better, we encourage you (or your team) to register for the event. We also have posters for you to download and share with colleagues and friends. Remember to bring your business cards to enter in our National Walking Day giveaway. You could be the lucky recipient of a Fitbit Flex.
All giveaways are on first come first serve basis while supplies.
We look forward to seeing you at your closest pit stop.
Photo Credit: Reema Desai/ReemaDesai.com for Arlington Transportation Partners