SafeTrack has really shaken up a lot of peoples' commutes and we're still in the early stages of the 10-month long rebuilding effort. If you've somehow managed to not see the SafeTrack surge maintenance schedule yet and how it will affect your commute, take a look: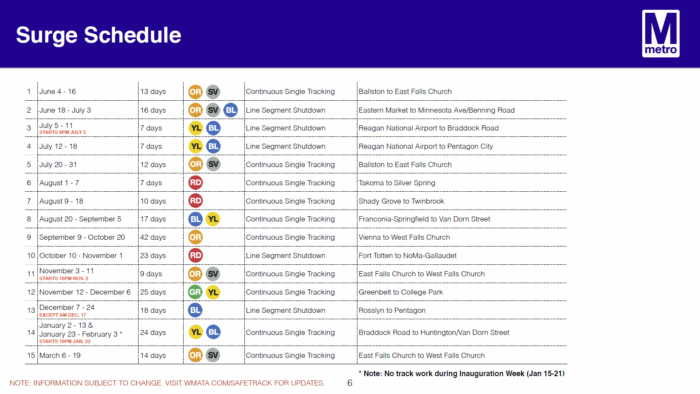 Each maintenance surge either severely hampers rail service on a particular stretch of track or completely stops Metrorail service in that area for the duration of the surge. For the surges that call for "line segment shutdowns," Metrobus and local transit agencies, like ART, are creating "bus bridges" to help people get through the surge areas. Here's an example of the prototype Metrobus used before implementing bus bridges for SafeTrack:
Just kidding.
SafeTrack bus bridges don't require you to wear a personal flotation device. Bus bridges are simply areas of increased bus service that runs along the same general route as a track shutdown area. Surges 2-4 are pretty heavy with bus bridges due to all of the segment shutdowns along the Blue and Yellow Lines throughout July.
So how do you use a bus bridge?
Metro staff are at the end stations of each bus bridge to make sure people know which bus to use to continue along their commute route.
Let's take Surge 3 for example. A person normally commutes along the Blue Line from Franconia-Springfield to Rosslyn, but Surge 3 calls for a line segment shutdown between Braddock Road and National Airport. This person would still tap their SmarTrip card at Franconia-Springfield to get onto Metro, but they would not tap out at the turnstiles at Braddock Road.
Instead, that person would exit the station and hop on the appropriate bus, again without scanning their SmarTrip card. This bus would travel along the bus bridge route and drop them off at National Airport where he would enter the Metro Station, again without scanning his fare card, to continue traveling up to Rosslyn. Once he arrives at Rosslyn, he can tap out of the system as if he had just taken Metrorail the whole time. These bus bridges are not considered a transfer so you are not charged for them – they are simply filling in service gaps while Metro tackles SafeTrack work.
Being able to navigate a bus bridge may seem like a daunting task, but once you try it and see that you're able to conquer your SafeTrack-affected commute you'll be feeling free like Nicolas Cage in "Con Air."