It's already March, daylight savings time has begun and the official start of spring is only a couple weeks away! Hopefully the DC region got all the snow out of its system, and we can really start thinking about warm weather and finally enjoying the outdoors. There are some great upcoming events that you can take advantage of to help incorporate physical activity into your workday, and now is a great time to start planning for them!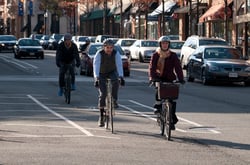 How does your commute or typical workplace environment affect your physical and mental health? For businesses and employees, we encourage you to consider this issue as April brings us Stress Awareness Month, National Public Health Week, and ATP-sponsored National Walk at Lunch Day! Try a different way of getting to work if your current commute always stresses you out. Or take a look at trip planning resources that can help you plan ahead so you can avoid issues on your way to the office. Public transit, biking, and walking are great ways to get physical activity during your commute – did you know that people who take public transit get an average of 19 minutes of walking time per day, compared to an average of 6 minutes for most Americans?
For those of us with desk jobs, the detrimental effects of sitting all day are becoming much more widely known, which is why National Walk at Lunch Day on April 30th (check out last year's event here) is a great excuse to get up and go outside for some midday exercise. This year's event will have three pit stops in Rosslyn, Ballston, and Crystal City where participating walkers can scoop up free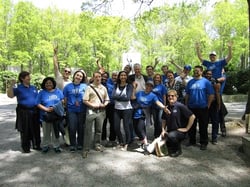 giveaways, enter to win prizes, and get your picture taken with fellow coworkers. Start a walking group in your office and you'll be on your way to having happier and healthier employees!
National Bike Month in May culminates with one of DC's most popular events, Bike to Work Day! This year's event is on Friday May 16th, and registration is now open for participants to sign up and ensure they get a free t-shirt! If you haven't been on your bike all winter, now is a good time to get a tune up and start planning your route to work. Test out the route on a Saturday or

Sunday before Bike to Work Day, or recruit a neighbor or coworker to bike with you to the office! Scout out locations where you can lock up your bike at work, perhaps your office building has bike racks in the garage or space to put your bike in the office. Check out this list of commercial and residential properties in Arlington to see if your building has transportation amenities such as bike parking and lockers. And remember, BikeArlington is a great local resource for bicycling tips, route information, and events!
So how will you get more exercise this spring? These events provide some great inspiration and opportunities to get out and incorporate physical activity into your commute or during the workday! Contact ATP to learn more about how you can include transportation into your company or property's wellness program!