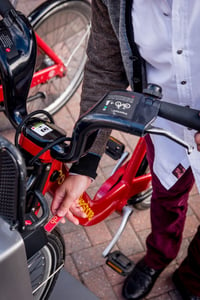 If you haven't read it yet, The Atlantic Cities posted an article last week titled "The Case For Making Bike-Share Membership an Employee Benefit," which discusses New York's new bikeshare system, Citibike, and the growing demand for corporate memberships among organizations. Despite having only begun a few weeks ago, over thirty companies of different industries and sizes have expressed interest in offering Citibike memberships as an additional benefit to their employees.
Here in the DC and Arlington area, Capital Bikeshare has grown to become one of the more popular and easier ways to get around over the past two and a half years. With over 200 stations and thousands of annual members throughout DC, Arlington, and Alexandria, more residents and workers in the region are realizing the benefits of bikeshare. Similar to businesses in New York, organizations in DC and Arlington are interested in providing an additional perk to employees through Capital Bikeshare memberships – over 50 companies have already signed up as corporate partners! With four discounted membership levels, employers have flexibility in deciding whether to cover the entire membership cost or just part of it.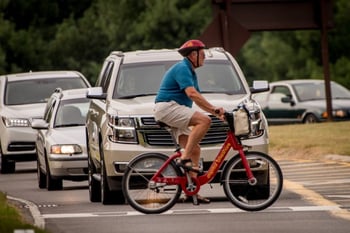 Both employees and their employers can reap the benefits (PDF, 707KB) of a Capital Bikeshare membership – bikeshare provides a fast and easy option for short trips or running errands during the workday; plus, it gives commuters another mode of transportation to make their trip to work easier. In addition, bikeshare is a fun and healthy way to travel – memberships can be part of a company's wellness or health benefits program, which can boost employee satisfaction and improve productivity at the office. Finally, even for employees who may be skeptical or hesitant to get on a bike, CaBi is a great backup plan for getting around in the event of an emergency. Traveling around by bike is often much easier and faster than sitting in a car for hours in traffic!
For Arlington employers, ATP can help you get started in setting up Capital Bikeshare memberships for your employees. Whether your company wants 5 memberships or 500, there are options available for every organization. Contact ATP today to learn more or sign up for corporate memberships –your organization could receive a free helmet for every membership purchased!