Arlington neighborhoods are often referred to as urban villages and the 11 villages are made up of a good mix of offices, residential communities, restaurants, retail and recreation. Home to several of our Champions, these villages offer something for everybody, whether you're there to work or to play.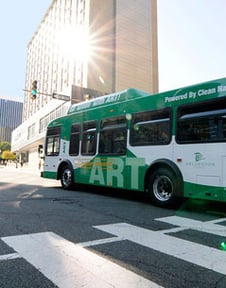 You can access Arlington's urban villages via Metrorail, bike (personal or Capital Bikeshare), bus or walking (depending on the distance). However, hopping on the bus is a convenient and stress free way to get around town. You can use your SmarTrip card on the ART bus or Metrobus and you can also take your bike on the bus, to help cover first/last miles of your journey! Have you tried riding the bus to any of the urban villages? Not sure which bus goes there? Schedules? Look no further, listed below are my top picks for bus routes to access all 11 urban villages.
Ballston
Clarendon
Columbia Pike
Courthouse
Crystal City
Lee Highway
Pentagon City
Rosslyn
Shirlington
Virginia Square
Westover
Ready to give the bus a try? Any questions? Hop on the bus and ride!