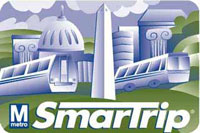 Starting on September 1st, you will no longer be able to go through the fare gates with just a dollar or a few cents left on your card, something many of us have done before. Instead, riders must now have a minimum balance of $1.20 on their card, or $0.35 for those with Senior/Disabled cards in order to enter the system. Make sure you check your card balance at one of the fare machines before entering – no one enjoys getting stopped short at the gate just when you thought it was going to open!
Are you a new rider on the Metro system? Have you wanted to get a SmarTrip card but just haven't found the time or place to do it? Good news! Also starting on September 1st, riders can receive a $3 rebate on the purchase of a SmarTrip card when you register the card online. The cost of the card will still be $5, but now a $3 credit will be refunded after the first time the card is used. Registering your card online is a good idea in general, even if you already have a SmarTrip. Your balance will be protected if the card is lost or stolen, and you also will be able to easily load money onto your card through the WMATA website. In addition, SmarTrip card vending machines will soon be available at every station in the system, so it is much more convenient for riders to purchase cards.
These changes are part of WMATA's efforts to encourage riders to use a SmarTrip instead of paper fare cards when riding the system. Remember, it's more affordable to use a SmarTrip card! Fares on both bus and rail are cheaper than using cash or paper cards, plus you can receive a $0.50 discount when transferring between bus and rail. Riders on Metro must also add an additional $1 surcharge to their fare if they don't have a SmarTrip card. So make sure you take advantage of the $3 rebate starting next weekend and register your card online if you haven't already! Feel free to contact ATP is you have questions!