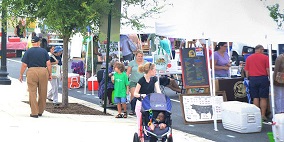 What's the first thing you think of when you hear Westover? If you said Westover Beer Garden, then I think we'd be great friends. But Westover has a lot to offer besides its famous beer garden. This urban village is first and foremost a walk friendly neighborhood that consists of a good mix of residential communities, small businesses and restaurants that are easily accessible via public transportation.
Westover resides between Ballston Metro Station and East Falls Church Metro Station, both serviced by the Orange and Silver Line Metro. July's Champion on the Month, Swanson Middle School is also located in Westover!
But of course, there's more to do than relive your days of Middle School geometry. Check out some of my personal favorites. You'll be glad you did!
Fun things to do
Some of my personal favorite restaurants/coffee shops besides the beer garden are:
The Italian Store – brand new location!
How do you plan on getting there? Drive alone? That could be an option, although not my personal favorite mode. If you choose to drive remember to carpool. Below are some other options.
Bus
Bike
The Custis, Washington & Old Dominion (W&OD) and Four Mile Run trails provide access to Westover via bike lanes. Bike parking is available on street and outside the library and most restaurants too. For more information about biking in Arlington visit bikearlington.com
There's always CarFreeAtoZ, Arlington's latest multi-modal trip planning tool to help you choose a commute option that would work best for you.
Hopefully after reading this blog you have found a reason to visit Westover. Leave me a comment below if you find something new that I should visit on this route.