Here in Arlington, we are lucky to have a number of different transportation options to get us to and from our workplaces, and help us manage other trips, errands and adventures. We have a first-class transit systems with the Metrorail, and a robust network of bus lines that operate locally, and even transport us out into neighboring communities. Capital Bikeshare, and our growing system of bicycle friendly infrastructure add another option. Thanks to all these, even if you choose to drive, you're often faced with less congestion than in other cities.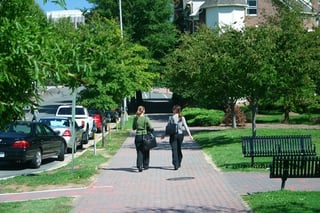 There is a common theme that ties all of these systems together, and supports each of these modes: walkability. Arlington has carefully created its neighborhoods in ways that allow residents, workers and visitors the option to walk to many of their destinations. You may use one of the transportation systems above to get to a particular 'urban village', but once you are there, you can do a lot on foot.
This concept of walkability is starting to gain national attention. It turns out, there are benefits to walkability beyond simply making it easier to run errands. There are health implications, financial implications, and economic implications as well. Simply put, whether people realize it or not, having the option to walk more creates a better quality of life.
In his recent TED Talk, local urban planner Jeff Speck, author of Walkable City, discusses walkability and its benefits. In many ways, he touches on things that Arlington planners have been doing for years. Now, the rest of the country is beginning to catch on.
The next several years will dictate whether this shift is permanent - if we collectively embrace the benefits of creating a walkable urban environment. I've witnessed firsthand the positive impacts it can have, and look forward to a more walkable future.