Near almost every Metro station is a series of low gray cases that look something like storage sheds. Over the last year or so, they have been receiving large yellow and blue stickers that read, "I'm a bike locker!"
Well that's great – but what does that mean?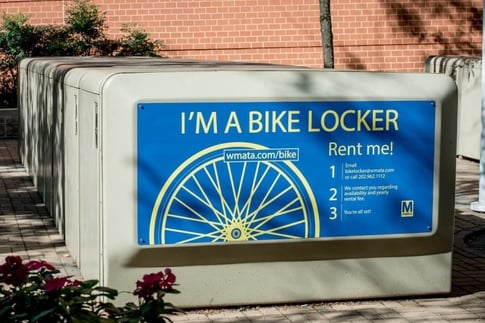 WMATA has installed 2,400 bike lockers at Metro Stations to provide secure places to keep bikes for people who bike to the stations on their bike to work. Each locker has just enough space to store a standard bike and some biking gear. They are deceptively small – upon opening your locker with your assigned key, you discover that what looks like a rectangular locker is in fact angled to a point at the back, just big enough for a back tire to fit.
Front handle bars fit comfortably, but if you ride a tandem or a recumbent bicycle, you will find they don't fit. Womps. The locked, enclosed space ensuring your is bike safe, meaning that bikes stay secure, hidden and protected from inclement weather – definitely a step up from a standard bike rack.
Renting a bike locker might seem like a crazy idea, but knowing that you have a secure place to store your bike might make the difference for someone considering biking to the Metro. Or for someone who rides Metro to near their office, having a bike locker might mean having a bike there to use instead of waiting for a bus.
Just bike back to the Metro Station at the end of your day and safety store your bike. It will be waiting for you, safe, dry and warm (ish), when you return.
Renting a bike locker costs $120 for a 12-month period, but first, email WMATA to inquire about availability. Some stations are more popular than others. However, once you get your rental agreement and key, go ahead and move the bike into its new home!
For more information on bike lockers and more, visit Metro's Bikes and Metro page.